MANIFESTO OF ALH. AMOBI YINUSA AKINTOLA, THE APC CANDIDATE FOR HOUSE OF REPRESENTATIVES, IWO/AYEDIRE/OLAOLUWA FEDERAL CONSTITUENCY
Constituents are in unity when the connection between them is strong and when a clear sense of purpose has been achieved.
Real change, positive change comes when the communities chooses a good representative and when representation is honest and open, when there is exchange of ideas between the elected and his electorates so that they are governing themselves only indirectly. This is the positive change that Ayedire/Iwo/Olaoluwa Federal Constituency can make. In unity, we can provide answers on how to deal with unemployment, agriculture, how to deal with issues of security, how to revitalize social services, education and health.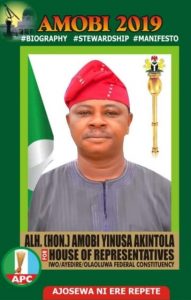 Politicians cannot have all the answers and representatives can't solve all problems but when a representative build a partnership with his constituents, when both parties agree to move their communities forward, communities change for better.
Together we can Rebuild, Reposition and Regain the lost glory of Ayedire/Iwo/Olaoluwa Federal Constituency. Together we will witness the positive changes and the advances that our communities desperately need. Together as a collective unit, the good people of Ayedire/Iwo/Olaoluwa Federal Constituency can lay claim to better education, health and social services. Together, we will begin go create opportunities for new jobs, open door to new ideas, better government and representation.
© COMPLETE, TRUE & EFFECTIVE REPRESENTATION OF IWO/AYEDIRE/OLAOLUWA FEDERAL
People have been cut out of the governing process for too long, election period should not be the only time that constituents will be involved in government and it shouldn't be the only time that politicians seek their constituents. Rebuilding trust in representation and representative means making the system reflect the people better. To achieve that I will:
– Publish data on the governance of Ayedire/Iwo/Olaoluwa Federal Constituency when requested.
– Bring for discussion among "AYIWOLA" communities any bill that directly affects the communities.
– Hold regular town hall meetings with my constituents where they will determine what the relevant and immediate issues are.
– Keep and open door policy that will encourage constituents to direct their problems to me.
– Open information channels on real time social network forum such as facebook, twitter, instagram etc.
© EMPLOYMENT GENERATION*
I will drastically reduce the number of unemployed youths and unemployed people in IWO/Ayedire/Olaoluwa Federal Constituency by championing and advancing practical and sensible policies that open AYIWOLA to trade and estabishes key infrastructures and this will be a major priority on my agenda for the people of IWO/Ayedire/Olaoluwa Federal Constituency. The aim will be:
– To support and create legislation that promote work programmes for the youths.
– To offer targeted personalised help to people seeking employment.
– To create bonds between the public and private sectors in cordial agreement with some prominent sons and daughters of Iwo/Ayedire/Olaoluwa Federal Constituency as an influencers in creating employment opportunities.
– Create various training programme for the unemployed to further their skills and let them create their own wealth.
Create Community Work Club (CWC) places where people looking for work can gather together to exchange skills, find opportunities, make useful contacts and provide mutual support.
© EDUCATION, HEALTH AND SOCIAL SERVICES
To better equip our youths to meet the challenges of this time and to be more attractive to employers, access to Education, Health and Social Services must improve.
– I will support legislation that will incentivize teaching in local communities.
– Draw private sectors attention to Health, Education and Social Services in the local communities.
– Make sure good health and Social Services are adequately rewarded to improve the quality of delivery.
– Identifying talents, revive football with other sports and support the arts and entertainment.
– Bringing National Health Scheme to IWO/Ayedire/Olaoluwa Federal Constituency to improve the heath of the rich and the poor at an affordable cost.
– Encourage Health professionals to suggest better ways to improve local communities health care delivery.
– Sponsored Bills that will favour and encourage the private schools owners.
© RURAL AND URBAN INFRASTRUCTURAL DEVELOPMENT*
It is our cardinal objective to check the alarming infrastructural decay and provide world class infrastructure that will unleash the creative energies of our citizens which ultimately trigger a chain of developmental activities for the constituency. To achieve that, I will:
– I will Support and create legislation for improvement of rural access roads to encourage farmers through Rural Access and Mobility Project (RAMP).
– Provisition of clean and potable water, boreholes will be provided at first, coastal areas with problems of saline water shall be focused on.
– Solar street lights will be provided in strategic places for constituency beautification and security.
© AGRICULTURE
People are now realising that among the various sectors of economic development in Nigeria, agriculture comes out on top as the most profitable. Agriculture has been identified as the largest employer of labor in Africa, particularly Nigeria. A lot of analysts called this sector a gold mine, awaiting to be fully explored. My focus will be to:
– Encourage and support farmers through Agricultural loan made available by Federal Government such as CBN Agriciltural Loan and Bank of Agriculture BOA loan
– Encouraging farmers and intrested youths to embraze Agricultural Cooperative Societies such as All Farmers Association of Nigeria (AFAN); Youth Empowerment in the Agricultural Program (YEAP) and FADAMA.
– Connect the farmers and interested youths to Federal Agricultural Agencies that can be of help in divers ways, such as: National Seed Service, National Fertilizer Company of Nigeria (NAFCON), Fertilizer Procurement Distribution Division, Forestry Management Evaluation and Coodination Unit (FORMECU), National Agricultural Land Development Authority (NALDA), Federal Department of Fishry, Federal Department of Forestry, Federal Department of Livestock, Federal Capital Teritory for Food, Roads and Infrastructure, Federal Agricultural Co-ordinating Unit (FACU), Director of Food, Roads and Rural Infracstructures (DFRI), National Sugar Development Council (NASC), Strategic Grain Reserve and National Veterinary Research Institute (NVRI).
© SECURITY
A community can't be economically and socially prosperous if it inhabitants do not feel save, it affects the quality of life and limits the extent to which a community can liberate itself. I will create and support legislation that will:
– Establish more police presence in local communities.
– Encourage communities to have volunteer groups on security.
– Make security forces responds better to information from the public.
– Empower and encourage traditional rulers to be fully involve in communal security.
I have outline my legislative agenda and as your representative to be, I believe the only way Iwo/Ayedire/Olaoluwa Federal Constituency can move forward is to work together and as a representative, I will make sure I walk and lead only when my people can follow and only where my people have agree to follow. I believe that representation can only be complete when there are open channels of communication and information between the constituents and their representatives. This is how I will lead and represent.