We Have Made A Choice To Practice Democracy, We Should Be Ready To Tolerate Criticisms -Hon Adewumi 'Irekandu'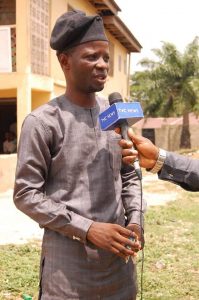 The honourable representing Obokun State Constituency in the Osun State House of Assembly, Hon. Adewumi Adeyemi 'Irekandu' has stated that so far, we chose to practice democracy, the government must be ready to tolerate criticisms from its citizens. He made this assertion while granting an interview with a correspondent of docpetinfo.com.ng in his office.
Read the full interview below;
Interviewer: Your name sir?
Hon. Adewumi: My name is Adewumi Adeyemi. I am privileged to represent the good people of Obokun State constituency.
Interviewer: Can you please tell us your background?
Hon. Adewumi: Thank you very much. I started my political journey when I was in the University. I studied Architecture, I finished from the Federal University of Technology, Akure. I understand the challenges we are facing as a nation, it beats my imagination that there is no solution to the challenges we are facing as a nation? So, I made up my mind that I am going to be part of the solution, no matter the challenges involved. I gained admission into the Federal University of Technology, Akure. Perhaps, because of my determination to be part of Nigeria's solution, firstly, I contested as Public Relation Officer of the Students' Union Government , FUTA, by the grace of God, I recorded success. Thereafter, I contested as President, I won and with the grace of the most high God, I was able to serve my people diligently. In 2008, I handed over the baton of leadership to my successor. In 2009, I returned back to my Local Government, Obokun Local Government to continue pursuing the vision of a new Nigeria that I so much believe in. I so much believe that no matter how difficult Nigeria's challenges are, there are solutions. As a final year student, I began organising empowerment programs, skills acquisition and seminars for both the youth and the elderly. I gave motivational talks in churches and mosques. I organised empowerment programmes to encourage and inspire and empower our people, to let them know that there are so many things they can do with their hands to become men and women of note in the society. I have been doing this with my team since 2009, that's about (10) ten years now. About two years ago, I made up my mind to represent my people in the State Assembly. To the glory of God, I contested the election and won. Today to the glory of God, I am an honourable member representing the good people of Obokun State Constituency, and of course, the story would not be completed without mentioning and acknowledging my party and community members. And also my father and my grandfather, these are people that are well known in the community. They really helped me on this journey and funny enough, the name I am using today, "IREKANDU" was my grandfather's nick name. He was a councillor in the old Oyo State. He performed excellently well in the community. Up till today, his name still rings the bell. I am privileged by the grace of God today to be a politician, an Architect with a master's degree in architecture, and presently pursuing my MPHD in architecture, all from the Federal University of Technology, Akure.
Interviewer: With your submission, should we say you enjoyed your father's and grandfather's political sagacity?
Hon. Adewumi: Definitely yes! If the name is bad, somebody like me would not even use the name, I will rather set it aside but because it is a good name, I adopted it for continuation. I am proud of his exploits and the legacies he left behind. I am pretty sure he would be happy wherever he is, if there's any possibility of him seeing what we are doing today. This is also a challenge to me that I must sustain and even surpass him by leaving behind a good name that those that will be coming after me will be proud of. Political positions don't last forever. Four years, eight years or more…one day, you will leave; what would people say about you? During the electioneering period, I know what people said about my grandfather and my father. In fact, their good deeds contributed in no small measure to my success at the polls.
Interviewer: Now, as a youth, knowing fully well that we have millions of jobless youths out there. What is your message to them?
Hon. Adewumi: Thank you very much. Presently, there is no gainsaying the fact that we are in a trying period in our country. No jobs coupled with lean hopes; but that should not be an excuse for us to involve in any criminal acts or not to finding our bearings. I will simply advise them, no matter how difficult it may be for now, we should know what we want, what we need and where we are going, and let's begin to work in that direction. Also, I want to urge them not to because of the present precarious situation take laws into their hands. We should be committed to our vision. Also, we should look for a way on how to add values to our community because when you add values, automatically, values would chase you.
Interviewer: As a honourable representing Obokun State Constituency, what should we expect from you?
Hon. Adewumi: Our people should expect an expansion of what we've been doing in the community in the last ten years. Presently, we are running a statistics, getting data of people living in our community because I want every of our programs to be backed up with statistical data. We have about eight projects that we will be driving in my constituency under the ADEWUMI ADEYEMI FOUNDATION that has been in existence for over ten years. How many farmers, students, elders do we have in the local government? How many unemployed youths do we have? I believe education is the key in nation building; take for instance the spate of insecurity in the country is mainly alleged to be perpetrated by the youth, why? The answer is what you and I know. The problem we failed to solve thirty years ago is now coming to hunt us. So we are looking at the ways we can empower our youths through vocational skills and also assist those who could not afford to go to school through scholarships. Our productivity level is low as a nation, that's why we remain a dumping ground for other developed countries in the world. We need to go into mechanized farming, farming with hoes and cutlasses cannot get us anywhere. Fortunately for us, in this seventh assembly, there is this cordial relationship that exists among us, and my 'EGBON' the Rt. Hon. Speaker, Timothy Owoeye has made it unambiguously clear that here, we don't operate or relate based on party affiliation or patronage. "We are here basically to represent our people and to make laws that will guarantee their well-being"
Interviewer: Few days ago, a protest was staged by some group of individuals tagged '#RevolutionNow' and government through the state apparatus forcefully dispatched the protesters while some were arrested. What can you say to this?
Hon. Adewumi: My take would be this, I will like to advise the federal government not to allow its citizens see this government as been intolerable. The government should allow and welcome constructive criticisms. We have made a choice to practice democracy and part of what it entails is freedom of expression, as a matter of fact, democracy is about freedom. Every citizen of Nigeria has a right to protest. Nigerians are dying through robbery, banditry, bomb blast, kidnapping, should we die again through protests? We should tolerate criticisms. Let government mobilize the security agents to go after the Boko Haram, kidnappers, herdsmen etc, these are the unscrupulous elements that are destabilizing our country. As long as we practice democracy, criticisms would come from different quarters. Ours is to remain focused and do the needful for the betterment of the general populace.
Interviewer: What is your message to your constituents, your party and government of the day?
Hon. Adewumi: Let me first thank my constituents for their support during the last contest and I promise to reciprocate in good measure. Also, I still want to seek their support now that I am a member of the State Assembly, I need their advise, ideas and prayers. I cannot do it alone. Also to my party, the People's' Democratic Party, I want to thank the party leadership, stakeholders and members for their unmitigated support and I want to make a personal appeal that we should remain united and be focused. A tree can never make a forest. Everybody is important in the party, a house divided against itself will never stand. Lastly, my message to the government of the day is that our governor should keep to his promise because I heard him in one of his outings saying he's not a governor of APC alone, but the governor of Osun State. It shows the governor is ready to separate politics from governance, this will go a long way in moving the state forward. Also as an ambassador of the youths in the State Assembly and governance in Osun State, I'll through the Speaker give necessary support to the governor to help move the state forward.
Thank You