The Price Of Change In Osun And Aregbesola
By Inwalome Donald
Rauf Aregbesola is facing double jeopardy in Osun, the people that refused to submit his name for ministerial appointment are the same people renaming his projects he executed as governor in Osun and the same people singing the chorus of debt in Osun State.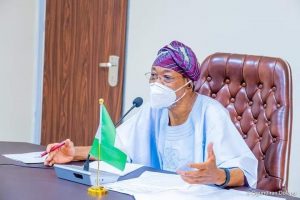 Rauf Aregbesola has laid foundation for the development of Osun State and that is the reason that people have projects to rename in Osun State today.
Aregbesola is facing double jeopardy as those who collected 20 billion naira refund from Federal Government road projects that Aregbesola executed are the same people singing the chorus of debt. Aregbesola has paid the price of change in Osun.
Those singing the chorus of debt will not tell you that Osun Sukuk loan for the building of 11 high schools thay want to rename has been paid. There is no chorus of debt with the Osun security architecture, when Rauf Aregbesola purchased Helicopter for Aerial Security Surveillance and presentation of more sophisticated 25 Armoured Personnel Carriers (APC) to the Nigerian Police Force, a feat that has never been achieved by any government in the 36 states.
The chorus of debt in Osun State is calculated to smear Aregbesola's rising profile as former governor and as present minister of interior. Aregbesola has become a target of smear campaign recently because of 'his rising profile in Osun that is difficult for anybody to match'. I must rise to expose and denounce the efforts to damage Aregbesola's reputation by those who never wanted him to be a minister.
It was not surprising that the name of Aregbesola was missing from the list of three persons that were nominated to be minister in Osun. Those singing the chorus of debt today are confused about how Rauf Aregbesola was appointed as minister by President Buhari. When Osun State was paid over 20 billion naira refund in 2020 for federal road projects that Rauf Aregbesola executed, there was no chorus of debt.
When Osun is renaming schools built by Aregbesola, there is no chorus of debt and when there is policy reversal on policy development carried out by Aregbesola, there is no chorus of debt.
In November,2020 The Senate approved promissory notes and bond issuances worth N148.1 billion to Bayelsa, Rivers, Cross River, Osun and Ondo State governments as refunds for projects they executed on behalf of the federal government.
The approval was a sequel to the adoption of the report of the Senate committee on Local and Foreign Debts Chaired by Clifford Ordia (PDP, Edo Central).
A breakdown of the money shows: Bayelsa State – 38.4, Cross River State – 18.4 billion, Ondo State – 7.8 billion, Osun State – 4,5 billion and River State – 78.9. A promissory note is a debt instrument which one party promises in writing to pay a determinate sum of money to the other, either at a fixed or determinable future time, under specific terms.
President Muhammadu Buhari had in September,2020 written to the National Assembly, seeking its approval for the issuance of the notes to offset inherited local debts – federal road road projects executed by the states. Not less than 20 states in Nigeria are currently seeking financial refund incurred on behalf of Federal Government for infrastructure project developments, especially federal road repairs in their territories.
It is wrong to accuse former Governor Aregbesola of borrowing beyond the capacity of Osun Internally Generated Revenue because Aregbesola has raised the Internally Generated Revenue from 200 million naira monthly to 1.6 billion naira monthly in his eight years.
The country's low debt to GDP ratio, compared to many other countries, has provided the platform for recent successive governments in Nigeria to sustain the argument that the government can afford to borrow. Osun debt is within threshold, it means among nations of the world, Osun set targets or limits for itself. That limit is usually domesticated against the gross domestic product.
The volume of Osun debt has not exceed 40 percent of its GDP. Having noted that figure; the Debt Management Office (DMO) in Nigeria has set a limit for Nigeria (self-imposed limit) of 25 percent, despite the fact that the acceptable limit is 40 percent. Nigeria sets a lower bar. DMO wants to pull Nigeria back if we hit 25 percent of our GDP. Nigeria has just hit 20 percent. So, in terms of ratio, Osun is doing very well.
Those who criticize Aregbesola on debt are playing politics of 2022 election in Osun State.
The people of Osun State are overwhelmed and satisfied with the performance and developmental strides of former Governor Aregbesola.
The people have rejected the politicalization of Osun State debt that started from the creation of Osun State in 1991.
The people have realized that Osun debt has now become a tool for cheap propaganda in the hands of critics in Osun State as we approach 2022 governorship election because Osun State has benefitted from Paris Club refund even when the state was not created when Nigeria took loan from Paris and London Club of creditors.
Osun's debt is justified and proportional to the rapid infrastructure and economic development which has proved an undeniable answer to those playing politics with the state's debt profile.
After more than eight years of historic growth, former Governor Aregbesola has achieved high growth as part of a broader effort to shift from consumer-driven economy to a manufacturing-based economy.
This has prompted concerns from critics who think that the acceleration is too sharp. Osun's economic growth for eight years is the highest since 1991.
Osun State Government in 2018 has asked the Federal Government to pay it the sum of N19.4 Billion spent on behalf of the Central government to rehabilitate Federal roads in the state.
The State former Commissioner for Works and Transport, Engineer Kazeem Salami made the appeal in Osogbo on Wednesday during the inspection of Federal road projects being executed in the state by the Minister of state for Power, Works and Housing, Surveyor.
Sulaimon Hassan as part of his tour of Federal road projects in the South-West as Commended Osun State Government on Road Projects.
Engr Salami, appreciated former Governor Rauf Aregbesola, for laying solid foundation that has never happened since the inception of the state.
He therefore appealed to the Federal government to expedite action on reimbursement of N19.4 Billion spent on the road projects by the state government.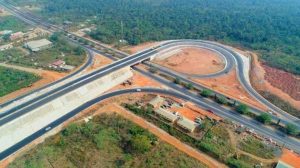 The Minister commended the state government for paying adequate attention to roads in the state and expressed his satisfaction on the quality of road projects constructed by the State Government.
According to him, the on-the-spot assessment by the Federal Government is very germane adding that he was really impressed with what he met on ground and promised the reimbursement of the money spent on the roads by the State Government .
Responding, the former Commissioner for Works and Transport in the state, Engr.Kazeem Salami, appreciated former Governor Rauf Aregbesola, for laying solid foundation that has never happened since the inception of the state.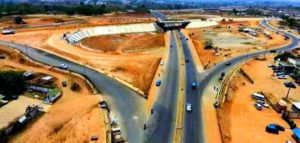 It would be recalled that this is the third visitation by the Federal Government representative to the State to inspect the road projects.
In attendance at the project sites were, Permanent Secretary, ministry of Works and Transport, Engr.Nurudeen Adeagbo, management of the ministry, Federal comptroller, ministry of works in Osun, Engr. Anya Omerekpe and others.
The road projects inspected include Gbongan -Akoda road and Osogbo- ikirun- Ila odo -Kwara state boundary road.