The honorable minister of interior Ògbéni Rauf Aregbesola and family members yesterday's evening at Ilesha hometown Revalidated his membership of the Progressive party (APC) alongside his family members.
Below is the text if his address to the people after revalidation 👇
Earlier today, I and members of my family revalidated our membership of the All Progressives Congress, APC at Ifofin, Ward 8, Ilesa East Local Government, State of Osun. I thank our leaders, members of our party and people of the community who came out enmasse to receive me.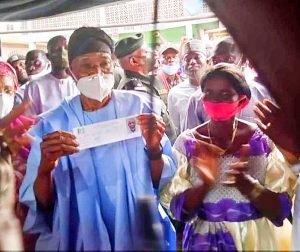 This registration affords us the opportunity to deepen internal democracy in the party. Our members now have a say in whoever becomes the flag bearer either at the party level or for government elective positions.
Though the constitution allows everyone to register as a member of any political party, even if they are suspects, murderers, character assassinators etc, but those who constitute majority of the party membership must represent the core values of the party. What distinguishes us are the values we hold. We value social democracy, to a large extent liberal democracy and progressivism.
There must be a clear distinction between jolly good fellows and fair weather friends who will still leave our party when they sense a better opportunity elsewhere. In associating with individuals, who you are, your character and world view must come to play.
More importantly, we must honour the memory of our father, Chief Bola Ige and what he stands for which includes, compassion, commitment to the good of the majority and ideas that will bring good life, happiness, progress and security for the people.
At the event, I also delivered the message of President Muhammadu Buhari who has resolved to tackle the problems facing Nigeria and Nigerians especially in the area of insecurity. Government is working assiduously to make insecurity a thing of the past.
I thank specially, leader of the party in Ijesaland, Pa Kunle Odeyemi; Former APC Chairman, State of Osun, Elder Lowo Adebiyi; Speaker of the State of Osun, House of Assembly, Rt. Hon. Timothy Owoeye and his wife; Former Commissioner for Environment & Local Government Chairman, Idowu Korede, amongst other dignitaries who came to recieve me in Ilesa.