*Oyetola sympathises with flood victims*
Osun State Governor Adegboyega Oyetola has appealed to the Federal Government to assist the state in combating flood disaster.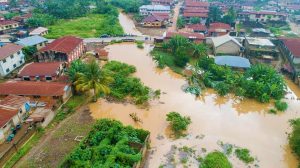 He made the appeal on Sunday when he braved the odds of the torrential rain to inspect the flooded areas in Osogbo, the state capital, with a promise to find immediate solution to the disaster.
Some communities in the state were ravaged by flood following the downpour that ran through Thursday to the whole of Friday, Saturday and parts of Sunday.
The governor, after due consultation with experts, promised that the government would bring dredging machines to immediately clear the flooded sites and create necessary expansion to allow for free flow of water.
He described the challenge of flooding as enormous, saying the Federal Government's support was needed in finding a lasting solution to the disaster.
The governor added that the state government had earlier requested for support from the Federal Government through the office of the Secretary to the Government of Federation, Mr. Boss Mustapha, adding that the government had promised to support the state in that regard.
Sympathising with the affected residents, he also urged them to stay away temporarily from the flood-prone areas.
Oyetola warned the residents against bad practices of dumping refuse in the canals and river.
He said the act has been found to be partly responsible for flooding since the blockage arising from the bad habit would prevent water from flowing freely to the appropriate destination.
The governor said the state environmental task force would be deployed immediately to start monitoring the state to prevent residents from dumping their refuse in the canals and rivers.
"We are deploying dredging machines to the affected areas to cushion the effect and with that, we can't have such occurrence again.
"Though the issue of flood control is not about dredging alone, it entails the need for the people to imbibe the sanitary culture of disposing wastes properly.
"If one looks at the topography of this place, it appears sloppy, and what that means is that it is easy for water to flow to our state from neighbouring states. That is why we have the river overflowing its bank.
"Our approach to flood control is to ensure that no part of the state is being ravaged by flood incidence and as a matter of fact, we are on the verge of giving succour to the victims of the flooded areas.
"With this visit, we have seen that there is a need to reconstruct some of the bridges by raising and expanding them to avert similar incidence.
"I have consulted with the relevant agencies as regards this incidence, and I have been assured of a permanent solution," the governor said.