Osun: Akande birthed legacy of prudent, transparent management of resources -Oyetola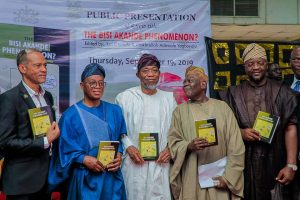 Osun State Governor, Adegboyega Oyetola, has described the former interim National Chairman of the All Progressives Congress (APC), Chief Adebisi Akande, as an encyclopaedia of governance and statesmanship whose virtues are worthy of emulation.
He also said Osun was proud to donate his politics, economics and governance dynamics to a nation striving to emplace visionary and dynamic leadership, adding that it was Akande who birthed the legacy of prudent and transparent management of men and resources in the state.
Governor Oyetola stated these on Thursday, in Lagos, at the public presentation of the book titled "The Bisi Akande Phenomenon: Governance, Economics and Politics", held at the Jelili Adebisi Omotola Hall C, University of Lagos, Akoka.
He commended Akande, who was also a former governor of the state, for his immense contributions to nation building and national integration.
Describing the book as a collection of the illustrious contributions of Akande to the building of the political edifice called Nigeria; Governor Oyetola added that Akande is a model for contemporary politicians, youths, and school children who the nation looks up to as its hope.
"His life, politics, philosophy, leadership dynamics and lifestyle accurately exemplify him as an outstanding Omoluabi and a phenomenon in the nation's budding democracy.
"Akande represents everything Osun stands for, and radiates the honour and statesmanship our nation exudes.
"Baba Awon Omo Kekeke (father of small children), as he is fondly called is a metaphor for the future of Osun and Nigeria.
"He radiates vision, discipline, dynamism, industry and honour, which we require to overcome the raging rot to become a great player in the competitive world. This Octogenarian was a compendium of wisdom during the opposition days of the progressives and even now, a formidable guide while in power.
"Since his tutelage under the late sage, Chief Obafemi Awolowo, Chief Akande has remained a potent voice in politics, governance and the economy. He is also widely known as a bridge between the North and the South in a nation immersed in ethnic and rotational politics.
"These rare attributes make him a phenomenon, a quintessential politician and a unifying force in a country where centrifugal forces are always gnawing at its political and economic soul.
"A visionary and dynamic leader, Chief Akande remains the architect of our beloved state, having laid a solid foundation which his successors have built on in all the sectors to announce the state to the world.
"Chief Akande birthed the legacy of prudent and transparent management of men and resources. Despite Osun's status as one of the resource-challenged states in the country, Chief Akande employed his skills as a creative manager to build structures and institutions in a manner that dwarfed the achievements of resource-studded states in the nation.
"As students of Chief Akande's politico-economics, we owe a huge debt of gratitude to the author of the book for codifying the activities and milestones of our principal into a compendium for us and the generations yet unborn to appropriately build bricks on the foundation that will take our fatherland to the Promised Land.
"As Baba's governor, I express the gratitude of the good people of of Osun to Baba Akande for living an exemplary life worthy of emulation. Thank you Baba, for becoming an Encyclopaedia of governance and statesmanship.
"We are proud to donate Baba Akande, his politics, his economics and his governance dynamics to a nation striving to emplace visionary and dynamic leadership," Oyetola said.