It Is Time To Work!
"I will be an ingrate if I don't appreciate all your support and love towards me and my ambition. I must sincerely thank you for all you have done for me."
These are words of appreciation from Senator Ajibola Basiru to his constituents in a message from his Media Office.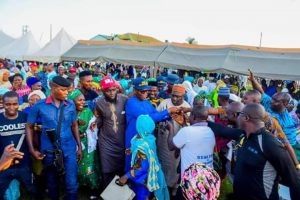 Senator Basiru stressed that it is people's support expressed in prayers and votes that provided the ladder he climbed to the elevation. Therefore, he cannot but serve the people diligently.
The Chairman, Senate Committee on the Diaspora assured people that he stands by the Pact he has with them as contained in his manifesto, maintaining that he is more than ever before determined to reciprocate the electorates gestures without distractions.
Senator Ajibola Basiru emphasised that his focus for now is to deliver on his campaign promises, clarifying that it is too early for him to talk about re election or seek another office, less than six months into the mandate.
"I'm not running for office for now, my focus is on delivering on my mandate, and in shaa Allaah, that's what I will do. Fulfilment of my campaign promises is of utmost importance, and that's the only way I can see if I have served you well or not."
Promising not to disappoint his constituents, Senator Basiru rallied the support of the people for the development of the Senatorial District.