*Irewole APC Executive Council members pay congratulatory visit to Mr Gboyega Alabi in his office
e*
Members of Executive Council of All Progressives Congress (APC) of Irewole Local Government led by the Chairman, Mr Owoade Arimiyau visited their son, brother and leader, the Deputy Governor of the state of Osun – Mr. Benedict Alabi to congratulate him on his victory after the election and successful swearing in into office.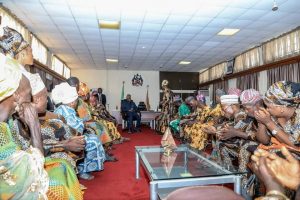 While delivering their messages, Mr Owoade Arimiyau, Mr Goke Akinwemimo, Mr Francis Oladele and Mrs Alirat Oyelami, appreciated God in the life of Mr Governor and his Deputy and they prayed God to bless them with wisdom to paddle the affairs of the state effectively.
The team also used the opportunity to thank Mr Deputy Governor on the appointment of the party Secretary in the local government – Mr Akinyemi Mujahid as Media Assistant in his office and urged him not forget his political campaign promises.
While responding, Mr Gboyega Alabi louded the team for the visit. He said "this is our victory because everyone played a prominent role in the process".
While delivering closing remark, Mr Tajudeen Oyeniran prayed for the party, the state and the new government.