IJEDA IJESA INDIGENES JUBILATE AS ARC. BABATUNDE DESMOND OJO FULFILLS PROMISE TO HIS HOMETOWN
…BEGINS CONSTRUCTION OF ATM GALLERY.
Over the weekend, Architect Babatunde Desmond Ojo in company of the people of Ijeda Ijesa laid the foundation of an Automated Teller Machine Gallery in the town in fulfilment of his promise to donate the ATM Points to the town which was made at the 2018 Ijeda Day Celebrations.
It was indeed a happy moment for all the sons and daughters of the ancient town on Saturday 24th August, 2019 as they trooped out in their numbers as the ATM Booth is expected to improve the commercial activities in the town and its environs; change the look of the town into an economic nerve centre and more importantly, reduce the huge stress of banking transactions which the people of Ijeda, Erinmo, Iloko, Iwaraja and Oriade State Constituency as a whole pass through.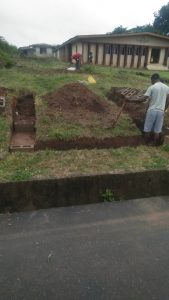 In the interactions with the people of Ijeda during the flag off, the Onijeda of Ijeda, HRH Oba Samuel Sebiotimo appreciated the Honourable Member who is also the Otunba Atunluse of Ijeda Ijesa for not forgetting his promise to his hometown and for playing a huge part in boosting the economy of the town as the only functional ATM booth and banking centre in the axis is almost 6 Kilometres away and tons of people have to queue for endless manpower hours to access it.
It should be noted that the proposed ATM booth is one of the modest PERSONAL CONTRIBUTIONS of an indigene to his home town in addition to making the single largest donation at the 2018 Ijeda Day Celebrations. The ATM Gallery which is to include at least two ATM Points is billed for commissioning as part of the Ijeda Day Celebrations in December 2019.