Familiarization visit; Ogbeni Rauf Aregbssola, Minister of Interior takes his "SET" agenda to Nigeria Correctional Service, Nigeria Fire Service.
In continuation of his familarization tours that he started yesterday, Thursday 22nd of August 2019, Interior Minister, Ogbeni Rauf Aregbssola takes his "SET" to other Agencies under the Ministry of Interior, today Friday 23rd August 2019 with a familiarization visit to two agencies. The Agencies are Nigeria Correctional Service and Nigeria Fire Service.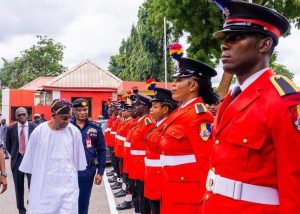 Earlier in the morning he visited the headquarters of the newly reformed Nigeria Correctional Service, NCS, Sauka, Abuja.
The Minister and his entourage were received by the Comptroller-General, Nigeria Correctional Service, Ahmed Ja'afaru who gave him a brief on the restructuring being implemented in the Agency.
As the new name suggests, our attention must be on correcting individuals who we believe can be reintegrated into the society by correcting, rehabilitating and readjusting them.
Ogbeni Rauf Aregbssola also visited the headquarters of the Federal Fire Service later in the day, FFS where he was received by the Comptroller General, Ibrahim Liman.
In his response, Ogbeni Aregbssola said "we are aware of the challenges facing the Federal Fire Service, and we will ensure they receive adequate support to offer effective and optimum service to Nigerians bearing in mind, the SET (Security, Economic rejuvenation and Transparency) objectives of President.
Aregbssola is amongst the newly appointed Ministers of the Federal Republic of Nigeria. After taking the oath of Office, he resumed work in his Office immediately on Wednesday 21st of August 2019 where he was received by the Permanent Secretary and other Directors of the Ministry.
He started his familiarization visit on Thursday 22nd August 2019, where he set the Objective to be achieved as "SET"; Security, Economy rejuvenation and Transparency when he visited Nigerian Security and Civil Defense Corps and Nigerian Immigration Service.