Don't Harbour Strangers, S.A. Public Health Urges Citizens
…re-sensitizes govt. house domestic staffs
The State Government of Osun, in its bid to curb the community spread of Coronavirus, after the confirmation of a new case who was said to have sneaked into the state from Kano through Iwo and news of positive cases within Lagos government house staffers has advised citizens to stop harbouring unknown visitors coming in from outside the State.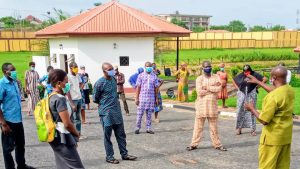 Pharmacist Olasiji Olamiju, the Special Adviser on Public Health gave the advice on Friday in Osogbo while re-sensitising domestic staff members of the state house on personal hygiene and environmental sanitation, the only known preventive measures against the deadly virus for now.
Olamiju enjoined the members of staff of Osun government house that it has become imperative for them to lead the campaign as well as take the message home to their families on how best to stay safe against the deadly COVID-19 virus.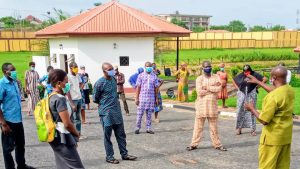 He expressed worry that despite government's efforts, people are still receiving visitors from neighbouring states and especially Northern parts of the country, urging them to always call the COVID-19 team whenever they see strange faces or visitors in their neighborhood.
"I urge everyone to adhere strictly to all measures put in place from the mandatory use of face mask to maintaining social distancing, use of sanitizer and regular washing of hands with soap and running water."
He therefore advised residents to take responsibility for their health by reporting any strange faces they come across in their communities.
While praying to God to overcome the scourge of the Pandamic, the Public Health expert handed over examination gloves, sanitizers, disinfectants, liquid hand wash and face masks to them for appropriate use in and out of the government house.