Blowing the Candles Out
-Adebayo Rasheed Mabayoje
No matter the conspiracy to blow out the candlelight, EXPERIENCES of this kind in Osun, and the man behind it will forevermore remain in the LTM (Long Term Memory) of the people.
"Aregbe" hardly imagined he was constructing his own representations when he was turning the old horrible slum area of Osogbo to the Nelson Mandela Freedom Parks and Gardens.
The Ísópàkò-ojú'rin area of Osogbo, the capital of the State of Osun used to be a den where dangerous miscriants pursued their deadly missions like rape, robbery, kidnapping, etc.
Before the Aregbesola advent, no resident dare passed across the area from 4pm. Only a stranger, or a new ignorant individual in town, who would learn an unfortunate lesson, walked through that slum that situated between the "old-garrage" and the "Ola-iya" junction area of Osogbo.
Upon the transformation, the new park and garden became a tourist arena for people- even from outside of Osun.
Wedding receptions were venued to the park, just as the paths of many couples today crossed while each of them was 'innocently' passing the time leisurely- either under the lustrous trees, or while capturing the aesthetic appeal of the ancient Osogbo. People are fond of leveraging the vantage created by the metal structure carrying a path for Osun people across the rail-line that passed through the edge of the park- as in picture 1. The picture- a drone aerial shot was taken on an Ileya festival, when Osun people gather to socialise. This has stopped now because of reasons best known to the authority.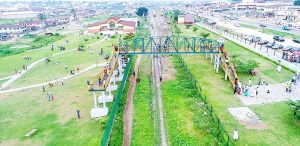 A number of Nollywood drama and musical videos were shot at the park. These experiences were daily records that added to what obtained during festivals like the Easter, Eidulfitri, Ileya, Christmas, and the Osun Osogbo show. Now, all of these only live with history which forever forgeounds the man that matched the candlelight. Eni tí ó p'aná ni ojú ma tì.