VILLAGE SQUARE INTERACTIVE SESSION with 'TUNDE OLATUNJI
(V.I.S.I.O.N with 'TUNDE OLATUNJI)
"I promise you to be going to school regularly as from today and I will work hard to become like you in the future. When I grow up, I will also come back to the village to help people and tell other children that it is good to go to school."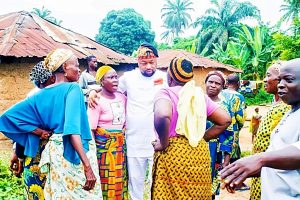 This comment from a 9-years old boy makes my happiest moment and perhaps my biggest take away yesterday as I flagged off my Village Square Interactive Session tagged "V.I.S.I.O.N with 'Tunde Olatunji", at Tonkere Orile, one of the remote farmlands in Ife North State Constituency.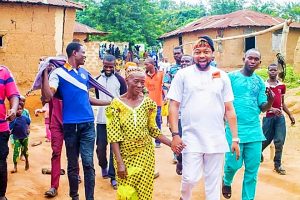 p
We are not in government for the lust of power, the quest of office, or mere politiking, we are on a generational assignmment to put governance and power in the hand of the real owners, the people, evolve a functional society that works for all, deploy ingenuity to create workable solutions and leave a legacy of Impacts.
It was both inspiring and revealing as our people trooped out from the farmstead and hamlets to welcome their representative and engaged me on diverse issues of governace, agriculture, education, infrastructure, welfare, security, Jobs and youth development etc. I did not only attempt to provide answers to their questions,I equally learnt a lot from them as we rub minds on our societal challanges – "Ti Omode ba kuku ni aso bi agba, ko sa le ni akisa bi agba".
We spent about 4-hours together under the village square tree listening to and discussing with my people as we savour the rustic atmosphere of the jungle.
We later took a tour of the newly rehabilitated modern health center facility in the village and they were very grateful to the Governor Gboyega Oyetola 's administration for such laudable initiative that has put an end to the many years of primary health care accessibility challenge. I charged them on the need to see the facility as theirs and make good and proper use of same. A senior health care officer was also with us for health advocacy and sensitisation talk.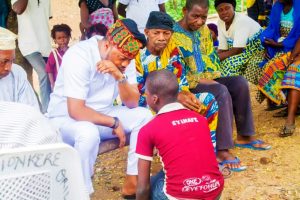 o
Many thanks once again my good people of Ife North State Constituency, the show of love was quite amazing and indeed humbling. God bless you real good!
People's participation is the essence of good governance and good governance is putting people at the center of the development process.
We will continue to work with you to deliver good governance and always strife to justify the priviledge you gave us to serve you.
The train moves to another location in Ife North soon.
Warm Regards!
Tunde Lekan Olatunji