'TUNDE GOES TO TEACH 2019/2020 Academic Session Flag Off.
The "Tunde Goes to Teach" initiative of the Chief Whip of the State Osun House of Assembly and Honourable member representing Ife North State Constituency, Mr. 'Tunde Olatunji will be unveiled on Monday, 23rd of September, 2019 for the 2019/2020 academic session.
The programme is a voluntary knowledge impacting class room engagement between Mr. Olatunji and students in Government Middle Schools in Ife North State Constituency and other parts of Osun state.
The Legislator will teach Mathematics and Civic Education in the Middle schools this academic session, with the desire to compliment teachers' efforts and use his status to further stimulate the students in the two all important subjects.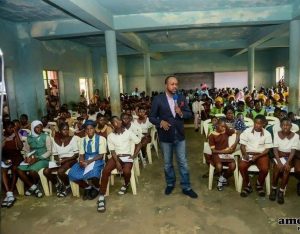 The initiative which will be unveiled at Anglican Middle School, Edunabon, Ife North State Constituency, will hold on a weekly basis across the Constituency and the State Capital.
According to the Legislator, " my desire in Mathematics is predicated on my drive to stimulate the interest of young ones in this all important subject often tagged as difficult, while the Civic Education to me will impact the sense of National duty, obligation, patriotism, respect for human rights and ethics, which are unarguably sine qua non to national renaissance and development of any state.
The Statement adds that, the "Tunde Goes to Teach" initiative is one of the numerous programmes under the umbrella of the "Tunde Olatunji Education Intervention" agenda, which had in the last four (4) years implemented many programmes including, " Tunde Olatunji Mentorship series for Secondary schools, Tunde Olatunji adopt a Child's education project, Tunde Olatunji Teachers' award programme and the Tunde Olatunji Ayo Olopon game for secondary school among others ".
It is worthy of mentioning that the various interventions aimed at promoting quality education in Ife North State Constituency and the State of Osun at large is bearing fruits within its 4-years of introduction and has assisted many young talents in academics and sports accross Osun state.