Fare the Well: Professor Taiwo Adegboyega Adewole (1949-2019)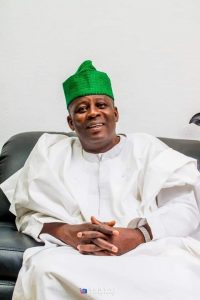 Prof. Siyan Oyeweso FNAL FHSN
Prof Oyeweso writes from Osun State University, Osogbo.
October 11, 2019
Taiwo Adegboyega Adewole was born on August 26, 1949 to a family of teachers in Ekiniku Compound, Ede Mapo Arogun. His parents were Mr. Samuel Ladeji Adewole and Mrs Lydia Oladuntan Adewole. He studied at University of Ibadan (B.Sc Biochemistry, 2nd Class Upper Division, 1974), Obafemi Awolowo University (Ph.D. Biochemistry, 1982) and University of Calabar (MB. ChB 1985). Taiwo Adewole grew under the tutelage of a distinguished biochemist at Obafemi Awolowo University, Professor Adeyinka Afolayan who had the onerous responsibility of serving as his PhD Biochemistry supervisor and who also inspired him to venture into Protein Chemistry and Enzymology. One unique measure of the man, Taiwo Adewole, was his great love for and deep commitment to Medicine and Medical Profession. He applied to study medicine after he had completed his doctoral degree in Biochemistry. Taiwo Adewole studied Medicine at the University of Calabar between 1981 an 1985. During this period, he belonged to such student societies as the Calabar University Medical Students Association, National Association of Medical Students of Federation of Oyo State, among others.
After his medical degree, Dr. Taiwo Adewole took up his first appointment with the Nigeria Institute of Medical Research (NIMR), Lagos where he spent 17years and 8 months and rose to the post of Deputy Director of Research (Clinical Sciences). In the course of time, he acquired Post-graduate (Residency) Training Programme, particularly in Chemical Pathology at the Lagos State University of Teaching Hospital, Idi-Araba, Lagos. During his odyssey at NIMR, he also took up adjunct teaching appointments at the University of Lagos and Lagos State University, Ojo, where he was appointed to supervise a number of B.Sc, M.Sc and PhD Students.
In the course of his career, as a graduate student, Prof Adebayo Afonja was also a great influence on him and, in fact, supervised his Post-Graduate Fellowship Diploma. Two other great academics with profound impact on him included Prof. Fola Esan and Prof. Akin Aboderin. Prof. Adewole later utilised DAAD Fellowship Grant. In Germany, he was "trained in the technology of PCR and its use in the diagnostic of Sickle Cell Anaemia Prenatally". When he returned to Nigeria, he joined the team of Sickle Cell Physicians and Gynaecologists at the University of Lagos Teaching Hospital – he was the only Molecular Analyst in the team. It was on record that the British Council donated the First PCR Machine for his research work during the period
His Postgraduate Medical Specialization was carried out at the Lagos University Teaching Hospital, Lagos, resulting in the award of Fellowship of the West African College of Physicians (Laboratory Medicine, Chemical Pathology Option, 1996). He began his academic career at the Nigerian Institute of Medical Research from where he was appointed as Professor of Chemical Pathology at the Ladoke Akintola University of Technology, Ogbomoso. He research interest was in Molecular Diagnostics, a procedure he had applied to diagnosis of Sickle Cell Anaemia prenatally and to some infectious diseases-malaria and HIV. He was a recipient of academic scholarship at undergraduate level and DAAD Fellowship to study Molecular Biology Techniques in Germany.
Prior to August 1, 2007 when Prof. Taiwo Adewole assumed duty as the foundation Provost of the College of Health Sciences of Osun State University, Osogbo, he had acquired a very rich academic, administrative and professional experience. He had, in fact, served as the Provost of College of Heath Sciences of Ladoke Akintola University of Technology. Taiwo Adewole was one of the six Foundation Provosts appointed by the Professor Peter Okebukola led Implementation Committee, alongside with Professor Sola Akinrinade led management, to midwife the birth of Osun State University, Osogbo. Professor Adewole assumed office as the Pioneer Provost of the College of Health Sciences on August 1, 2007. As a Pioneer Provost, he was a member of the first Senate of the University which consisted of only eleven (11) Professors as members and Dr. Julius Olusakin Faniran as the Registrar and Secretary. He was also a Senate elected member of the foundation Governing Council chaired by the distinguished Professor Peter Okebukola OFR. He served for two terms between December 2007 and June 2011.
As the Foundation Chairman of the Committee of Provosts, I worked very closely with the Professor Taiwo Adewole and five other Provosts which included Late Professor Olukayode Ojo (now of blessed memory), the foundation Provost of College of Management and Social Sciences, Okuku Campus, Professor Joseph Fawole, Provost College of Education; Professor Oladiran Famurewa, Provost College of Science, Engineering and Technology and Professor Olusegun Matanmi, Provost College of Human Resource Development and Life-Long Learning, Okuku Campus. The Committee of provosts was also later expanded to seven with the appointment of Professor S.F. Adedoyin (now of blessed memory) as the Provost of the College of Agriculture, Ejigbo Campus. During the period, Professor Adewole proved to be a very hardworking, conscientious, highly disciplined and a focused academic and administrator. He was also a team player and a team leader. He accepted all responsibilities and challenges with infectious smiles. He drew the curriculum for the College of Health Sciences and under the supervision of the Vice-Chancellor; Professor Sola Akinrinade, recruited the first set of academic staff. The College of Health Sciences took off with the Faculty of Basic Medical Sciences: Biochemistry, Anatomy, Physiology and Community Medicine. He was also on the panel that recruited the first Professor for the College, Professor Olutayo Charles Alebiosu and such other seasoned academics as Dr. Esther Funmilayo Asekun-Olarinoye, Dr. Mrs Patience Akinwusi, Dr. Mrs Michealine Isawumi, among others
At the commencement session of the 2008/2009 academic session, student enrolment at the college of Health Sciences stood at 73 with the female enrolment at 44. Professor Taiwo Adewole also had the honour of becoming the Presiding Provost when a Four-Man team from the Medical and Dental Council of Nigeria (MDCN) conducted Council's Advisory Visit to the College of Health Sciences on October 14, 2009. The MDCN Team was led by Dr. A.A Ibrahim. He was also in the saddle when the Osun State House of Assembly passed in November 2009 the Osun State University Teaching Hospital Establishment Law.
Under his watch, the academic standard of the College of Health Sciences was very high. He opined, and the Senate agreed with him, that students who scored less than 3.0 CGPA should be asked to withdraw from the College. They could, however, transfer to other programmes in the university if they maintain a CGPA of 1.5 and above. Professor Adewole served the university on a number of strategic committees of the Senate, such as the Development Committee, Central Accreditation Committee, the Curriculum Committee, Committee of Provosts, Deans and Directors, and Business Committee of Senate, among others.
Professor Adewole also had oversight functions over the Physical and Infrastructural Development of the College of Law, Ifetedo Campus particularly between August 2007 and February 2010. This is given the fact that the College of Law did not take off until the appointment of Professor Olayiwola Owoade Oladele as the Acting Provost, on Friday 19th March 2010. Prior to that date, Professor Taiwo Adewole served as the Coordinator of the College.
Professor Adewole co-authored a number of papers with Taiwo Mary Adeleke, Prof. (Mrs.) Esther Asekun-Olarinmoye, Prof. (Mrs.) Patience Akinwusi, Dr. Akande and Dr. (Mrs) Ojurongbe Akande. On successful completion of his tenure on July 31, 2011, Professor Taiwo Adewole and other foundation Provost received two awards of meritorious service from Osun State University  one from Prof. Sola Akinrinade led management and the second from Professor Peter Okebukola's led Governing Council. The management also had a befitting send forth party for him and other pioneer provosts.
On completion of his tenure, Prof. Taiwo Adewole returned to his place of Primary Assignment – the Ladoke Akintola University of Technology, Ogbomoso. He later served as the Head, Department of Chemical Pathology, LAUTECH (2014-2018). He also served as Acting Chief Medical Director of BOWEN University Teaching Hospital (2013-2014). In 2014, Prof. Taiwo Adewole delivered his Inaugural Lecture at the Ladoke Akintola University; Ogbomoso of Technology titled "From DNA to Molecular Diagnosis – The Future of the Past in the Contemporary Medical Practice" His forte in life was in the field of Molecular Diagnosis.
While at LAUTECH, Professor Taiwo Adewole continued to serve the Biochemistry Department and the College of Health Sciences of Osun State Univeristy in various capacities  adjunct staff, Part-time staff and offering useful guidance and counselling to the College on crucial occasions and time. He was a great asset to Osun State University.
Prof. Taiwo Adewole was also a community and grassroots leader in his home town, Ede Mapo Arogun. Since my association with him began in 2007, he was a key player in the development and advancement of Ede land through the home town association, Ede Descendants Union. He was a member of the Elders' Council of Ede Descendant Union, Chairman Education Committee and member of several other highly Strategic Committees. He was also a member of the Board of Trustees of Timi Agbale Palace Project being chaired by Mr. Sunday Adedayo Adeoye, a Retired Deputy Inspector General of Police which Prof. Siyan Oyeweso also serves as the Secretary. In his odyssey as a university teacher and medical doctor, Taiwo Adewole positively impacted many lives. He was an ordained Deacon of the Baptist Church and Chairman of Baptist Medical Services of the Nigeria Baptist Convention. During his life, he belonged to the New Heritage Baptist Church and the New Estate Baptist Church. Every assignment he was saddled with was handled with exceptional industry, knowledge, honesty and integrity. One of the great traits of Prof. Taiwo Adewole was his accessibility to senior and young colleagues. Always grateful to God for his enviable status in Biochemistry and Medical Profession, he always said, "The Young Must Grow and be helped to grow right".
Today, the bell has tolled for Professor Taiwo Adegboyega Adewole. He changed mortality to immortality, but he lived a rich and purposeful life. He was not just an academic leader who buried himself in the laboratory; he was also a great mentor and community leader who left imperishable legacies on his place of birth  Ede Mapo Arogun, the medical profession, LAUTECH, UNIOSUN, BOWEN and Nigerian University System generally.
Prof. Taiwo Adewole is survived by his lovely wife, Mrs. Morenikeji Ajike "Ruth" Adewole, his children, his sisters and brothers, several nieces, several mentees and friends
Prof. Siyan Oyeweso FNAL FHSN
Prof Oyeweso writes from Osun State University, Osogbo.
October 11, 2019