KOGI State under Governor Yahaya Bello…
I have patiently watched and hear how people are being misinformed about Governor Yahaya Bello. The Governor on his part has remained unshaken in his mission not minding what the media says about him; the onus is on us concerned Kogians to also use the media space to inform the people on the truth.
1: Kogi State Government is the most tribal friendly state ; with most of its Government appointees drawn from the other ethnic groups especially from the South Eastern extraction – Notably among them are:
Mr. Barrister Moses Okezie DG Research and Development and Speech writer to the Governor, Mrs.Debora head of service amongst others just to mention a few.
2: Kogi State Government under Yahaya Bello is the most Youth friendly in Nigeria with over 70% of its appointees comprising of majorly Youths.
3: Kogi State Government is the most transparent government in Nigeria – one of the very few states in Nigeria that publishes its financial statements periodically such as: Reports of Audited Financial Statements 2015 till date, Utilization of Paris Club bail funds, etc.
4: Over 5000 kogites have had access to a combined health benefit valued at 28 Million naira at no cost.
5: The Ibaji Kogi rice project is expected to be one of the largest in the country, with the farm nearing completion, when completed will generate thousands of direct and indirect employment, the rice production is estimated to have a capacity to feed the nation.
6: The Green House Farm in Osara has been completed when commissioned it will generate thousands of direct and indirect employment.
7: Kogi State is the only state in Nigeria that has carried out a 100% institutional reform in its civil service aimed at tackling corruption and rooting out illegal staffs recruited over the years with fake certifcates the staff screening and result validation exercise.
On Why Governor Yahaya Bello Can't Pay Salaries as at when due
Recall that this Administration met an arrears of October – December, 2015 and used the allocation received in January 2016 to clear October 2015, leaving November to January, ie, 3 months. The situation with the LGAs was too murky to tell at the time.
Background of Screening Exercise, Wage Bill and Outcome:
Note that Governor Bello worked with the Accountant-General, Head of Service and other principal functionaries appointed by ex-Governor Wada till at least March 2016 when his own appointees started to come on board. The salary schedules prepared by these officers put the wage bill for State workers around N2.9bn per month from January to March, 2016. The said wage bill does not include salaries and emoluments of Governor Wada's political appointees who had left office with their boss. If you add those, it will shoot up to N3.1bn. Meanwhile LG was approximately N2.9bn. At the time in question, pay for current appointees was not inclusive as they had not been appointed.
After screening, the monthly wage bill dropped to about N2.5bn monthly at state level. When the Governor granted amnesty to about 30 categories of offenders earlier screened out it rose again to about N2.6bn. After recruitment's by the Ministries of Justice, Health, Environment, etc, the wagebill climbed further to N2.7bn monthly. At the LG it dropped to about N2.5bn monthly after screening. All in all, the screening saved the state about N1b, give and take, per month. The ongoing pay parade is expected to reduce the wage-bill some more.
It is safe to say that Governor Yahaya Bello's Staff Screening and Verification Exercise was a resounding success, with many benefits for the state's economy going forward. The only challenge now would be overcoming the funding gaps via what must be long term solutions designed to find more money and eliminate late/non-payment of workers' emoluments in a sustainable manner. This is the current preoccupation of the Bello administration and it is expected that the gains will be passed on to future administrations.
Bailouts Utilisation:
The bailout of 20B was shared between the two tiers of Government: 10b LGA and 10B State, which could barely clear those lingering 3 months. It has kept lingering till today because what was needed to clear the entirely salary was 80.4B with FG approving only 50.4B and releasing only 20B so far. By implication, what GYB met is what is being carried over so far but since government is a continuum , the governor accepts his cross.
The monthly recurrent expenditure is placed at 6.2B according to Budget IT, with an average allocation of both state and local government standing at about 6B which is to service a civil service wage bill of both local government and state of 5.8B. The gap is sensitive. On the average of 6B, about 2B is taken for loan repayments on ISPO, servicing a chunk of loans from the previous administration and current from the bailouts and other complimentary loans to keep government running. Can arrears be fully paid when allocation cannot even execute the current wage bill? What if everything that comes to the state is used to pay salaries, how can we suture the infrastructural gaps?
Recall that from 2015-2017, until the last quarter of last year, allocation had not shut up to the average which has been quoted, for the gruesome and depressing economic recession kept allocation in some months at state level of 2.1b and 1.8b for the local government. This gap was what necessitated the conquest of bailing out states to meet their current liabilities, sadly, Kogi state is the only state yet to be given her full entitlement of bailouts fund. It is worthy to note that currently, staff without screening issues are not owed beyond 3-4 months in Kogi state. However, states like Benue in the North Central owe as much as 7-12 months, Bayelsa owed more than 10 months, Abia State owes about 13 months, including most northern states in Nigeria, along with states like Osun that owe more than 1 year in some cases. Would anyone say Kogi state is the only state owing salaries in Nigeria or only APC states? Abia State is a PDP State with many months of unpaid salaries, yet, won re-election for another 4 years. Highlighting these facts is to buttress the point that gaps in salary payment is not a problem of only Kogi state. Still, in the decline of resources, Kogi State was still able to prudently manage her resources wisely to peg owed salaries at not more than 4 months. If Gov. Bello had ignored what Wada owed, he would have been owing just a single month. Reiterating my earlier stance, December salaries should hit the account of civil servants this week, (backdated arrears, this does not mean they have not received salaries this year), whilst the Governor sleeps on the road to and fro Abuja to ensure the outstanding 30BN bailout is paid to the state to clear the other outstanding issues of salaries which has been politicized by political herdsmen and power grabbers. If this is done, what would be their next line of activism?
Follow me,
Paris Refund Utilisation:
Let me also ask, for those asking questions about"Paris Refund", what went into the projects so far?
Kogi State was in complete isolation of each other pre-2015. In Kogi Central for example, no linking roads to create alternative routes for the teeming population. The Agassa/Auchi/Benin bypass in Okene was created to suture this infrastructural gap. In Kogi East, there was no connecting road to the Igala traditional stool, Idah; a collective shame of those who beat their chest as "Igala sons and daughters", which of course, reverberates in color when tribalism becomes a hallmark of their expression.
The Umomi/Ajaka/ Idah road which you can all see is a multi billion naira infrastructural project that links various communities in Igala land together. It has wiped away the shame of the Igala land. These are TANGIBLE projects on ground, being driven by monies that did not come from heaven. I shall explain subsequently.
In Olamaboro for example, which is a border land – local government that demarcates the boundary between Kogi state and Benue state, there is an alternative access road which is the Ibana/Ogugu/Ikeje/ Ette that links the entire Igala communities in that area to other parts of Nigeria. Can we pretend that these things do not exist? More than 70% of Kogites live in the rural areas, which gives priority of Government projects to them, more so if we are to align with SDGs goals which Kogi is doing fantastically well in child mortality ratio and availability of safe water for communities like Bassa which is isolated from civilization, including the richly potential-ed Ibaji Local Government Area that is worse in this statistic. Safe for Anyigba, Dekina Local Government lives in perpetual darkness with Bello stepping down many transformers and taking rural electrification for the first time to the village of the former Governor Idris Wada (Odu), including Former Governor Ibrahim Idris's Omala LGA for the first time in the 27 years of Kogi's existence.
In Kogi West, there is a multi billion rice farm of about 2000 hectares cited in Ejiba. To produce our own Confluence Rice, we have CONFLUENCE RICE MILL, which is meant to produce close to 50 tones per day. The exponential possibilities of this cannot be quantified as it touches on direct market for rice, engagement of locals in the plant to create job opportunities and landmark mapping of Kogi state as one of the Rice Producing and Selling state in Nigeria.
The various roads under construction, numbering about 53, at various stages of completion. The security we enjoy, the Agricultural stimulation, the counter part funding for world bank projects, the NEWMAP projects, etc? If that was used to clear outstanding salaries too, would we have anything on ground, especially the security that is hugely celebrated with Kogi ending as the second most peaceful state in Nigeria with 0.02% crime rate, only after Kebbi state?
For projects like the completed Ankpa Township road at Ankpa Local Government, the commercial hub of many Igala communities that brings foreigners from many places to trade. The socioeconomic impact cannot be quantified. The Kogi State Revenue House, a multibilion naira project was completed under Governor Bello, to overhaul the Revenue Generation scheme of the entire state which drives the IGR. Across the state, counterpart funding into SUBEB projects have delivered qualitative primary school buildings to boost the education portfolio of the state. The famous Sheria-oguma bridge has been completed.
Water Projects
In the area of water, there is the reactivation of the dead, flogged dead and absolutely abandoned Okene Water-works to water-house the entire communities in that region. There is the Korton Karfe, a suburb of Lokoja, the state capital's water works reactivation which has been abandoned for decades. At Isanlu, Kogi West, the water works has been rejuvenated to life. In Kogi East, especially Bassa and other Igala lands, not less than 50 boreholes has been sunk for the people. Water is a basic need of human survival, Kogi East never had this, safe for the rivers of many kilometers to be trekked, especially that of the Ugbamaka in Igah, Olamaboro LGA which was carried by Sahara Reporters for not having water even when the 16 years National Assembly regular, Sen. Attai Ali Aidoko hails from that particular village.
Under Governor Bello, to ensure the social apparatik for peaceful co-existence, he upgraded the traditional stools of many royal fathers without a dime paid for it, which was the tradition of the past. Many palaces were renovated, including that of the abandoned Ata Igala's Palace, the father of all Igalas from Kogi East. The Maigari of Lokoja's palace has also been renovated on a popular demand from the community.
In Kogi West, the Ohun-Ifeolukotun-Ekinrin Adde road is ongoing. The Ijowa-Iyamoye-Ifeolukotun is also ongoing.
In Kogi East, the Ikeje/Ogugu/Okpo-Ette road has been mentioned earlier, the Umomi Ajaka/Idah road, the Ankpa Township road, the Egume-Dekina-Shintaku road has been mapped for work to begin.
In Kogi Central, the Agassa/Auchi/ Benin Bypass is ongoing and at a critical stage of completion. The Itakpe-Eika-Okene road is also ongoing, Odenku-Obehira is another road ongoing along with other roads.
Are you also aware that 90% of Kogi East is in perpetual darkness? For most Kogites who are from Kogi East, the largest population in the state, light has not crossed from the Itobe bridge to Igala land even after two Igala sons have been Governors. The current Governor who is from Okene, Kogi Central has put about 1.5B in the 2019 budget to light up 70% of Igala communities. Can you imagine the exponential effects of that? Many people have not seen power all their lives for the 27 years they've lived in their clans, towns and villages. It is a sorry situation. This amount of fund would not come from anybody's private pockets, neither would the entire civil servants make the sacrifices by donating some of their salaries, still, it is for the same people, by large, entire Kogites.
In our educational institutions, many structures in our tertiary institutions were upgraded which includes but not limited to School of Health and Technology, Idah, Kogi State. The School of Midwifery, Obangede, Kogi State.
Going to our Health Sector, the Infant Mortality ratio of Kogi state has dropped drastically with on the spot support for primary health care for nursing mothers. Check the internet for verification. Also, the world class Kogi State Diagnostic Hospital has been fully completed. This facility would bring medical forex from medical tourism as there is just about four of it in Nigeria and as well, attend to the critical health needs of many Kogites. Do we also remember the Kogi State Transportation Park/ Yard at Felele? Governor Yahaya Bello has put it almost at 98% completion, to activate a business sense, reflective of the central nature of Kogi state that creates a melting pot for travellers.
Many Government assets which were left for rot, stench and sleep-house of pigs, unbefitting of human habitation were rebuilt, some upgraded and others built from the scratch. These includes: The Kogi State Government House with renovation and furnishing of many office equipment. The Government house which was like a shrine and selling house of street merchants have been given a face lift. Many Ministries like the Kogi State SDGs office, the Kogi State Social Investment Program (SIP) offices were flown into the sky with modern infrastructure befitting of human habitation, that should clearly give an idea of the many rehabilitation that went on in the Government House.
Let us not lose sight of the fact that prior 2016, Kogi state capital, Lokoja, was like a meat market. Dirty. Clumsy. Sticky and stinking. It was so left in desolation that many scammers always use lines of "I am stranded in Lokoja" for their sleaze. Governor Bello engaged the services of GeeMony Global Kleeners that maintains the wastes, created collection terminals for many waste products, planted flowers in the galleys along with a maintenance culture. In addition, the more than 1000 staff on Geemony's payroll are Kogites who have been employed with a drop down exponential effects on their families. At the last quarter of last year, the Nigeria Television Authority, adjudged the state capital as the second most cleanest in Nigeria. Anyone who is unsure should check the internet for all these facts.
In this painment, do you know the Kogi state capital never had the common denominator of road management which is Traffic Lights and Street Lighting until 2016 that Governor Yahaya Bello came on board? We need someone to challenge these facts. In fact, most of the roads in the GRAs were left for only truck pushers who had the power to push trucks. It was not motorable. Many roads within that axis has been fixed, the popular road to the famous NUJ, the hottest night life joint in town that is always booming at night even as many people complain of non-payment of salaries, the GTBank road has a fresh asphalt overlay. Thick. Sweet. Very sweet.
Are these projects only to benefit GYB? It is for Kogi people. He won't go home with anyone at all. Former Gov. Wada with no tangible projects owed 3-4 months State workers salaries and more than 30 months percentage salaries for local government workers, still, with the shortfall, GYB maintains 3 months gap but still has projects running into billions across the state.
These things are not as easy as that. There are contending factors which needed attention. I am sure the deficit of the bailout we are expecting (30B) can bring us at per and clear substantial obligations with salaries. Added to this is enough projects on ground to make up for nearly 6 years of no projects in the State.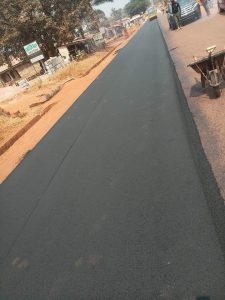 For those also blowing these things out of proportion, let us ask this vital question: do these Civil Servants actually go to work? If they do, do they add value and increase income. Take away the Educational institutions, Health Institutions and Agricultural institution, which other sector of the civil service adds real value and is viable to the state? It is mostly a feeding-bottle instrument of corruption for many politicians and lazy citizens who see government funds as an empowerment.
Is Government not responsible to other critical sectors like Security, Education, youths and sports along with bridging infrastructure gaps, etc?
Let us be hopeful with this government. We run an average wage bill of 6B monthly on a joint allocation of an average of 6B, if you doubt me, let anyone come up with evidence against this, still the noise goes into flames like all the funds in Kogi state has been diminished.
At the local government level, most local government workers and the most vital organ which are teachers received 10-30% salaries. It was when the government of GYB came on board that it steadied at 35% with push to 54%, with a current policy of ensuring a 50% payment by all administrators as we are normalizing from the economic recession that affected Nigeria and also Kogi state, which many people do not like to remember in their analysis.
Finally, we should not be oblivious of the fact that our state has a very bad image currently due to the perception that has been painted up by politicians and their hired media-lings who could not place the image of the state above their quest to rescue power at all costs.
The Kogi State Government's approach towards governance is contained in the Policy document called the New Direction Blue Print with five major thematic areas of governance.
The Blue Print took a community based approach in going round the 21 Local Government areas of the state, combing thoughts and priorities of the people in the area of their expectations from government towards societal development.
Most of the communities visited with the NEEDs assessment approach made specific requests which is contained in the document, these requests is what the government has used as their pointer of development, hence, Kogi has more people living in the rural areas than the urban areas. Graded roads to network the communities, power and rural electrification along with boreholes were mostly the listed priorities.
Can anyone verify if the GYB Government has derailed on this requests?
Interestingly, the blue print emphasized that for all the needs to be met, 70% of funding would have to come from the IGR, hence, the government planted her economic anchor on the Public Private Partnership approach which has yielded not much investor participation because of the constant de-marketing of the state by hired political herdsmen. If per adventure they intend to take over power by battering the image of the state, would they not be handing over a rotten seat of governance and image to another (God Forbid anyway, because Kogi needs to remain on the path of stability of progress) governor?
The time to draw a conscience line between politics and governance is in the best interest of Kogi state. It is also time to talk, let the evidence based engagements continue. Let us discuss beyond propaganda and killing of the image of Kogi state. Let us engage like intellectuals. It is certainly a magical feat for Governor Bello, amidst the challenges he faced in the courts to retain his mandate, the political stones clubbed at him and the shortfall of funds to still win Kogi state for the All Progressives Congress in the last elections whilst maintaining a three months salary gap when other states with 13 months like Abia are not in the news like he is. It is simply magical that regardless of all these, Kogi State has projects to show for the 3 and half years of his stewardship which the cake on them is the security in the state which is almost the model for other states in Nigeria, with Kogi as the second most peaceful state in Nigeria at the moment. The bailouts has an outstanding of 30BN which would soon paid to be used to defray salaries, would the argument now subside into constructive grounds or tribal bigots and ethnic jingoists would still rate him because he is an Ebira man?
Time shall tell
8: various infrastructural projects have been completed and almost nearing completion in the 21 local government areas of the State. Notably among them to mention a few are:
• Umomi Ugwolawo
• Ajaka – Idah Road
• Ibana- Okpo Road
• Ogugu-Ette Road , Olamaboro
• Ayingba – Umomi Road
• Akpagidigbo – Ugwolawo Road
• Ankpa Township Road
• Construction of Mount Patti Road
• Remodeling of Kogi Hotels, Lokoja
• Construction of 10.7km, Agasa-Ukpogoro Road.
• Construction of 8.5km, Ogaminana/Ebogogo/ Total junction through Eika Itakpe Road.
• Construction of 12.8km, Ebiya Kpatesi/Ogigiri Road.
• Construction of 21km, Obeira Okengwe/ Obangede Road.
• Rehabilitation of Idah/Ajaka/Umomi/ Ejule Road.
• Construction of Oguma/Sheria Road/Bridge Bassa LGA.
• Constructions of Ganaja/Otokiti dual carriage way bye pass Road.
• Construction of embankment along Kpata/Marine/Kabawa Lokoja.
• Rehabilitation of Ankpa Township Road
• Rehabilitation of Kabba township Road
• Construction of 2 hotel blocks for Govt. Girls Unity Secondary School, Oboroke Okehi LGA
• Rehabilitation of Ibana junction, Ikeje-Ibana Ogugu Ette Road
• Rehabilitation of Idah water works
• Rehabilitation of Kabba water works
• Rehabilitation of Ankpa-Abejukolo road
• Rehabilitation of Shintaku-Dekina road.
• Abejukolo electrification project.
• Construction of SDG's office complex Lokoja. : Completed
• Construction of Court house at Ganaja, Lokoja.
• Construction of Ganaja village road Lokoja.
• Rehabilitation of Iyamoye/Ife Olukotun Ponyo, Jege, Ejuku Ijowa road. 73km
• Installation of street light in Lokoja township
• Construction of Hostel blocks, Kogi State College of Nursing and midwifery, Obangede.
• Renovation of Hostel blocks, Kogi State College of Nursing and midwifery, Obangede.
• Renovation of Kogi State House Assembly Complex. : Completed
• Renovation of Government House. :
• Construction of Ganaja village-500 unit Estate road
• construction of Ayingba-Umomi-Akpagidigbo-Ugwolawo-Ajaka road, Ankpa township road, Ibana-Okpo road and Ikeje-Ogugu-Ette road at the cost of 2.84 billion naira.
9: Kogi State is the only state that went over two months with no single record of crime.
10: The state Government just entered a partnership and signed a memorandum with the NNPC to produce 84 million litres of Bio- fuel which expected to create 2 million jobs.
11: Kogi state Government just concluded its investment summit after which various investment MOU's were signed with foreign investors and Federal Government.
12: Project 160 has seen the renovation of artifacts and tourists attraction sites around the state when fully completed will make Kogi State the No1 tourist destination in Nigeria this will also generate employment in the state.
In saving the best for the last it will interest you to know that Kogi state has successfully cleared over 5 months salary arrears and has received the January allocation to pay salaries for the Month of January.
The highlighted are just a few of the giant strides of Governor Yahaya Bello in less than 3 years but unfortunately it may not make it to the dailies, but when a corrupt civil servant who had been feeding fat on public funds for years with forged certificate commits suicide after he was caught and dismissed according to then law, it makes it to the dailies and every media platform and everyone cries foul.
Kogi State under Yahaya Bello is indeed on the path of progress in less than 3 years despite the series of attacks and distractions from selfish politicians who have decided to turn the people against the Governor using every means possible including drawing needless sympathy the Governor has remained focused in delivering his promises without fear, favour of unwarranted sympathy