Very serious and terrible fire outbreaks at Faridah Adeleke Market, Dada estate, Olorunsogo in Egbedore South LCDA state of Osun this early hours of Wednesday 28th of August 2019.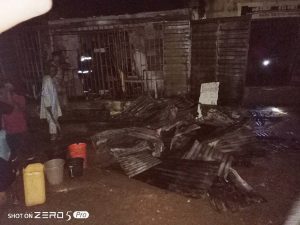 Properties worth millions of Naira destroyed by fire outbreaks which occurred at Extension U block 1 in the popular Faridah Adeleke Market,Olorunsogo early hours of today around 2am.
We can not ascertain the cause of this fire outbreaks because there was no power supply at the market as at the time the incident occurred and it was raining at the same time the fire started in the shop.
It took the urgent intervention of the state of Osun fire service to bring the situation under control,otherwise the incident would have escalated to the other nearby shops.
The chairman of the Egbedore south LDCA Honorable Ajao Adekola Akeem who I put a call across to around 3am when I got to the scene also made a surprised visit to the scene despite the time of the occurrence, it take a responsive and responsible leader to respond to the distress call especially at that hour of the day,the time he was supposed to be enjoying his sleep at home. To even picked up the call at that period is an attribute of a responsible leader.
Kudos to our chairman for this.
My observation during the period the fire brigades were trying to quench the fire is that the service has personnel but no functioning equipments to tackle the fire, they exhausted all the water in the tank but,could not be able to quench the fire completely until people around in the market during that period went to search for water at the nearby church to manually quench the remaining fire.