*5 Takeaways From Osinbajo's Osogbo Carnival*
1. He is APC's most popular candidate: If there were still any lingering doubts about this, the carnivalesque reception in Osogbo yesterday has cleared them all! The crowd of all age groups nearly overwhelmed the VP's motorcade in the Oja Oba market place, at the Ataoja's palace, and at the state government house in Oke Fia where they waited till the consultation with delegates was over, to pick up where they left off!
2. The Governor's absence changed nothing: Osun is a state many political analysts have predicted may go either way, owing to the fact the sitting Governor is not only an ally but a close relative of another APC aspirant. But did any of this matter to the crowd roaring "PYO! PYO!! INCOMING! INCOMING!!" as his motorcade slowly made its way through? Your answer is in the pictures from the event.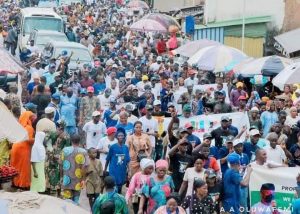 3. A baptism took place: I noted from pictures posted online before Osinbajo's arrival, that there were about 4 people from the "other camp" fully clad in the infinity-sign regalia and strategically positioned, apparently with the aim to embarrass and intimidate PYO. But even they were captured paying rapt attention as he spoke and as soon as he was done, they willingly filed up in what was a long queue waiting to get a handshake and a picture with Osinbajo.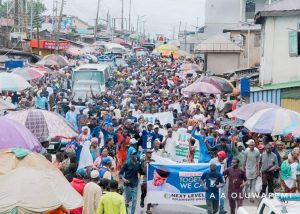 4. His show of sportsmanship: flashback to a day before in Rivers, Osinbajo said during his consultation, "There is no need for conflict of any kind, especially among presidential aspirants. All of us, who are all presidential aspirants, have either worked together or eaten together at one place or the other. We are aspirants today, but only one person will emerge, and we must be prepared to work with that person." This he gracefully demonstrated as he embraced and shook hands, wearing a broad smile, with these 4 men who apparently were at the venue to make their own statement. If this isn't the greatest show of sportsmanship in politics, I don't know what is.
5. Traditional rulers are in sync on Osinbajo's ambition: it was not from a Nollywood scene, the great Oba of Benin (and his council of chiefs) really did say he moved a trip so as to receive and listen to the VP because "I am a great admirer." The Emir of Bauchi said if he was not an Emir, he would work on his campaign team! Obong of Calabar in his words "we are praying that you pick up the ticket, we will support you". The Ataoja of Osogbo was also not left out yesterday, "Osinbajo, we know you are capable and very intelligent, when you get there, come to our aid." These are only a few of the Royal fathers who have spoken glowingly of the VP since his consultation journey kicked off.