SRJ Commissions Another Set of Three Boreholes in Boripe And Olorunda LGAs
Less than a year after Senator Ajibola Basiru flagged off provision of bore holes in towns across his senatorial district, the lawmaker commissioned another three in three LGAs in his District.
In his remarks, the Olororuwo of Ororuwo Oba Qamarudeen Ade'yemi Adeyanju Alawode IV said "he who gives water gives life"
quoting SRJ that "everything is made from water. "
Kabiyesi remarked that he has a platonic relationship with SRJ right from the out set disclosing that he made a personal request for water on behalf of the people of the Ororuwo community from SRJ.
Appreciating Senator Basiru for the project, the Olororuwo charged beneficiaries who all trooped out to maintain and guard the project.
Praying that no evil will befall Senator Basiru again, the monarch charged youths to always steer clear of violence.
In his remarks, leader of the team Hon Taofeek Olatunde Badamasi Abolubode of Osogbo State Constituency said SRJ would always have the love of Ororuwo at heart and will always remember them in any amenity available for the people of osun central.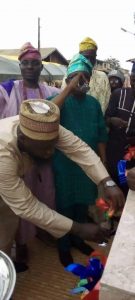 The team later moved Iragbiji to commission another borehole sited in the town.
The team was received by Baale Idisakagba, Chief Josiah Adeniji who prayed for success for SRJ in all his endeavors.
At Olorunda LGA, the Senator's team was received by Hon. Abiodun Kilanko, Alhaji Sulaiman Ekelojuoti, Alhaji Mutiu Ogidi and Hon. Waseeu Adebayo on behalf of Sabo/Kola Balogun Community
They all expressed happiness with the senator because according to them, he is reliable and trustworthy.
"Politicians are known to be liars but SRJ has change people's narrative and perspective about politician because the drilling of the water came out early."
In his response on behalf of the Senator's team, Chairman, Osogbo South LG, Hon Abdulhakeem Olaoye said he had never seen a senator as reliable and dependable as Dr Ajibola Basiru. He said the money used in construction of the boreholes is from the Senator's hard earned money and not government financed.
He said SRJ had provided 9 boreholes since he got to the 9th senate.
"Out of 10 LGAs in Osun Central Senatorial District, we have been able to drill and commission boreholes in 7 LGAs in Ifelodun LGA, Olorunda LGA, Irepodun LGA, Ila LGA , Odo -Otin LGA, Boripe LGA and Osogbo LGA."
"All the boreholes drilled so far are functioning well."
He urged the people of the community to take care of the borehole and maintain it.
Hon Taofeek olatunde Badamosi who led the team praised the senator for his show of love, steadfastness and prioritizing people's interest.