SPEECH DELIVERED BY THE MINISTER OF INTERIOR, OGBENI RAUF AREGBESOLA, WHILE REPRESENTING PRESIDENT MUHAMMADU BUHARI AT THE INSTALLATION OF SIR ADEBUTU KENSINGTON AS THE ODOLE OODUA IN ILE IFE ON SATURDAY OCTOBER 19TH, 2019
PROTOCOLS
I bring warm greeting from President Muhammadu Buhari. I am however, wearing two caps today. First, I am representing Mr President who is unavoidably absent due to no less important matters of state. I am also here as a son of the soil to honour Kabiyesi, Enitan Ogunwusi and the man of this moment, the Odole Oodua, Papa Adebutu Kensington.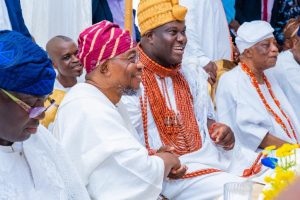 Recently, Kabiyesi celebrated his 45th birthday and this celebration has extended to this occasion. I can only once again congratulate him on this milestone.
President Buhari revers traditional institutions, and it is one of the reasons he has sent me to be here today, to convey his felicitations with Sir Kensington who is taking on a huge pan-Yoruba responsibility.
A safe, secure and prosperous country cannot be built without the traditional institutions, and that is why President Buhari continues to engage with our royal fathers. Naturally, Kabiyesi Enitan Ogunwusi is always at the forefront of such engagements.

Today is a red-letter day in Ife Kingdom, and Yorubaland generally. The title, Odole Oodua, is being given out to a worthy Yoruba son, a philanthropist and an entrepreneur of great standing. Papa is well versed and well-grounded in Yoruba culture, tradition and institutions. He is an encyclopaedia of Yoruba history. He sure fits the bill.
The same title was held in the past by no less a person than Chief Obafemi Awolowo, a foremost nationalist and visionary leader. After his demise, the erudite lawyer, Chief Godwin Kolawole Ajayi took the mantle and did his part, before his departure.
It is significant that a worthy entrepreneur, industrialist and investor is stepping into those shoes today. Of course, not just anybody could have stepped into the shoes once worn by Papa Awolowo.

The former occupants of the office brought honour, dignity and majesty to the office. I am well convinced, and have no doubt, that this new occupant will not be different.
The title is a challenge to Papa Adebutu Kensington, to further serve Yorubaland, Nigeria and humanity in general. Every great privilege, I have learnt, comes with a huge responsibility. Legends are therefore made from how the honouree will rise to the challenges of his office.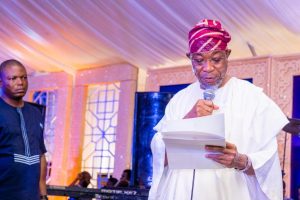 The primary challenge of leadership at the traditional level is building peace and unity. They must ensure that relationship at the subethnic level is cordial. This should naturally translate into peaceful relationship with other ethnic groups. We should build a united and an inclusive country, in which all the groups maximally interact with each other with mutual respect, without the fear of one absorbing the other.
Secondly, given their influence and authority, they should play central role in the security of their domain. There should be no security breach in any part of the country without traditional rulers knowing about it. They should be able to bring this to the attention of the law enforcement agencies for necessary action. There must be vigilance in all our communities. Eternal vigilance is the price of liberty.

We have had the disturbing news from some parts of the country how traditional institutions give sanctuary to and aid insurgents. This is self defeating. How could they have contributed to the instability of their own domain and the insecurity of their own people?
The Federal Government is committed to the peace and security of the nation and all its parts and we are doubling our efforts to restore peace to any troubled part of the country. We are not going to rest on our oars until we achieve this. Every life is valuable and anyone or group that will constitute a threat to the life and property of Nigerians will have the full force of the government to contend with.
Thirdly, traditional institutions should keep promoting our culture through music, fashion and language. They should guide the youth on the right path. When the youth are not well guided, they can easily corrupt our heritage and break the link between the past and future. This linkage is important and must be unbroken. Baba Kensington should take a renewed interest in the study of Yoruba language, history and culture through the endowment of academic chairs.
Fourthly, they should bring back the age-grade system through which the youth are given moral instructions, prepared to be good citizens and on how to be productive in society. Laziness and laying about were strange to and not tolerated in traditional societies. They shouldn't now.

I am aware of the efforts of Kabiyesi to empower youths, women and widows in his domain and beyond. This is commendable. He should keep it up.
Formal greetings have been issued to you on this occasion by the Media Office of the President. It shows the high esteem in which Mr President holds you.

Let me congratulate Sir Kensington on his installation. May he live long to serve in his new office. May our Kabiyesi, the traditional institution, and the new Odole Oodua continue to prosper, and be in good health. The country appreciates you.
I thank you for your attention.