DECEPTIVE APPROACH OF OUR FEDERAL LAWMAKER, HON. BAMIDELE SALAM.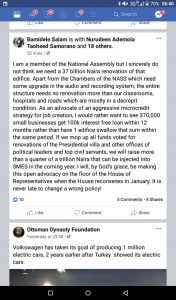 A facebook post of Hon. Bamidele Salam, our lawmaker representing Ede federal constituency where he said he is opposed to #37 billion earmarked for the renovation of the National Assembly which was posted to some on line medium should receive the attention of all progress lovers of Ede federal constituency.
In the said post, our lawmaker, while suggesting several alternatives on how best to utilize the #37 billion earmarked for the renovation of NASS advocated for aggresive microcredit strategy for job creation among other laudable opinions which we can not but agree with him on this.
However, Hon.Salam deceptively played a fast one on our collective intelligence when he said he will continue an open advocacy on some of his suggestions when the house resumes in January.
Good as this may sound, one should ask our lawmaker where he was when the budget, which passed through several processes, got his own copy and perused it without restrictions before it was eventually passed by the house and his contributions, opinions and objection to certain provisions before coming out for open advocacy on what should have been his constitutionally expected role.
As a member of opposition, Hon Salam is at liberty to voice out his opinion on any matter in the house and his voice would be heard loud and clear from Abuja rather than coming home to echo his afterthought advocacy on social media.
While we are not opposed to whatever good intention that our lawmaker may have, we challenge him to come openly and tell us what our federal constituency stands to benefit in the year 2020 budget from the federal ministry of Education, Agriculture, Health, Enviroment, Women development, special duties, Youths and Sport among others and canvass openly for the implementation instead of coming home to condemn a process he actively partook in.
A sincere approach to duty by our lawmaker will be apprciated by everybody instead of a clever deceptive approach that will only compound our existing woes of being in opposition.
Mandate Media