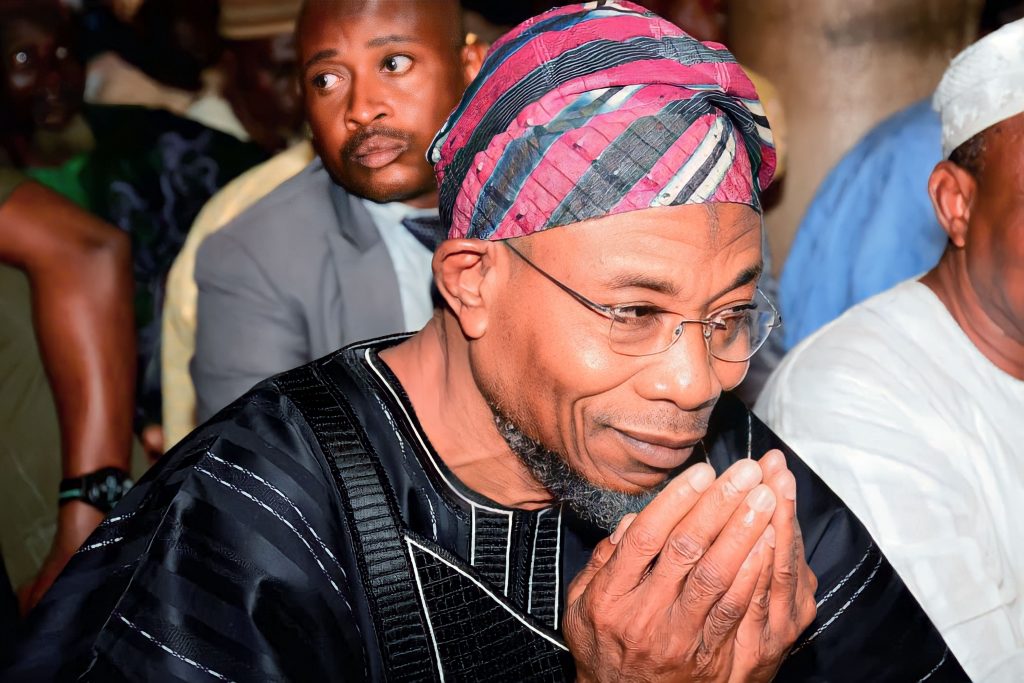 We are not supposed to wear the toga of a politician on this platform even if we belong to a political party.
Aregbesola is my friend. He belongs to APC.
Shekarau is my friend.
He belongs to PDP.
I have a personal relationship with Taofeeq Akinwale through MSSN. He used to be in Labour Party.
So I have friends across the board of Nigeria political spectrum.
Aregbesola can best defend himself but I want us not to always remember the ugly side of Muslims. Let us remember their good side no matter how small, intangible or infinitesimal.
Aregbesola arguably is the best Muslim Governor ever from Yorubaland in terms of practice.
Long before he became Governor he had associated with MSSN a little and a lot with NASFAT. We normally sit on the same spot in the Haram in Makkah during the last ten days of Ramadan when he was commissioner in Lagos state. He books hotels just for his luggage but performed his Tahajud within the precinct of the Haram.
The day he became Governor he dazed everybody when he quoted copiously from the Holy Qur'an ' kuli lahuma……Quran 3vs 26
Through out his sojourn as Governor, and Minister he starts his speech with Basmalla. Tell me any Governor from kogi, kwara and the whole of the South who has the courage to do this without thinking of the political consequences because of the inveterate animosity of the kufar in our midst.
We have forgotten this unprecedented act that promotes Islam. A whole Governor doing this to launder the image of Islam.,? I am not very emotional. I shed tears when he sang on the day of his first term swearing in AWA SOPE FUN OLOHUN OBA 2CE
OBA TI O DOJU ADURA TIWA . OBA TI KO JA ASETI O WORO WA O AWA SOPE FUN OLOHUN OBA.
This was after quoting from the Qur'an. Not a few Christians day manifested their unhappiness and anger. It was unprecedented . It was to them unnecessary. It was to them inexplicable.
He was the first Muslim Governor to toy with the idea of using Hijab and had a long running battle with the kufar in osun state. Nobody remembers this again.
Later the Muslim Ummah in Osun appealed to him to declare first of Muharram as public holiday ostensibly to square with first of January the Christian new year. He not only obliged the Muslims, government funds was used to celebrate it every year.
Before you say jack Robinson many Governors in the North followed suit. Before you say Alif Ba Ta , Ajimobi also declared first of Muharram as public holiday in oyo state.Ogbeni pioneered this without thinking what the kufar would say.
It is worthy of note that kwara that could be called an Islamic state had a reluctant Muslim Governor in Bukola Saraki who didn't oblige kwara Muslims.
It was the last First of Muharram that Governor Abdurahman Abdurazaq a more devoted Muslim declared first of Muharram as public holiday in kwara state.
It is like we are all suffering from collective amnesia to forget this good deed of Ogbeni.
The idol worshippers are Nigerians. Their Asise is covered under freedom of worship by the Nigerian Constitution.
They also approached ogbeni that they wanted a public holiday. When I heard Ogbeni obliged them I met him on why he should do this. Is he not promoting idol worship in contrast to the prayers of our Mallams of old( May Allah be pleased with their souls) KI OLOHUN PANA ADEBO RE. KI O GBE SUNNAH ANOBI GA
He said ' If Muslims believe it was injustice to be denied public holiday on first of Muharram, would it not be injustice to deny pagans of their own public holiday as well.
I concured but if I were in his shoes I would not have done it without a court order.
So legally Ogbeni was perfectly right to have obliged the idol worshippers. Nigeria is not an Islamic state. For anybody to say Ogbeni was hobnobbing with the pagans at the inglorious expense of the Muslims when he was Governor was a pathological liar.
Tell me any Muslim Governor in Yorubaland who prays jumah from one Mosque to the other through out the eight years he was in power except Ogbeni. Was he also going to church every Sunday or shrines every Wednesday,? I think we should fear Allah.
In fact my trick of seeing him without any security blockade was to come to osogbo on Fridays. Since he doesn't go to the office until after jumah on Friday because he used to prepare his own sermon which he presents after the jumat service in any Mosque where he prays. He gives me the honour of sitting with him to the Mosque and in between the government house and the Mosque we would have discussed any issue I needed to discuss with him.
I know Nasfat is a very Conservative organisation and definitely we cannot all be radical like Taawun, Muric or NACOMYO. But I expect the Osun branch to have told the whole world that Ogbeni actively participated in their activities, like Taawun always defend Ogbeni.
I had gone with him to Tabligh Ijtimah in Ilorin. He had attended the December IVC which Amosun also did.
He had sponsored many FOMWAN national programmes in Osogbo. He had financed the National conference of National Dawah Coordinating Council.
He gave money for the renovation of the Osogbo Central Mosque and completion of the secretariat of Osun state Muslim community. We have forgotten all these?
I don't want to be specific but I know we influenced him to appoint not a few Muslims to strategic positions which hitherto would have been given to Christians.
Politicians don't reason the way we do. They are more particular about winning elections and remaining relevant politically.
Asiwaju had told us one day that if there is an association of mad people they would manage to mobilise them if they would vote. People accuse him of planning the defeat of Oyetola a Muslim in the last election but forgot that apart from Allah he was the single most important strategist that won Oyetola his first term.
Allah witness that my humble self all the way from Oyo state was mobilised by Ogbeni to give a helping hand.
Ogbeni if you regard it as a mistake by given Asise holiday you are entitled to your own opinion.
As a mortal he could neither be perfect, infallible and impeccable. As a politician they have their idiosyncrasies that runs absolutely against moral ethos of Islamic nobility.
I know a lot of the criticism against Ogbeni stems from his differences with his former alter ego and principal Asiwaju. Being a small fish among those who are trying to be part of the solution, any statement here can reverse my position 360 degrees to be part of the problem.
If we, his brothers are unfair to Ogbeni posterity would write his name in Gold
To Ogbeni let me tell him
BAOKU ISE OTAN O