Re: Osun and Aregbesola's Palliative: Hypocrisy Of A Leader
We must commend the arrival of Covid-19's palliative as it sourced from the enigmatic symbol, Ogbeni Rauf Aregbesola when he responds humbly to the calls of his people at this critical time.
It is hard for any one with conscience at this time to fold his harm and be mooted while the lockdown is causing unprecedented hunger in Osun State and all over the world. At least one must do his best for his people and now is always the best time. That our own Ogbeni Rauf has done.
Very unfortunate is the awkward and baseless antagonism of the little rain dropping during the dry season by hypocrites who are sad confronting good work of leader with influence.
Specifically, one Hakeem Adisa needs to be told that this is moment of humanitarian and not politics but everything to a political sycophant is politics. It is reinstated that RAUF's palliative is a reflection of humanitarian gesture suitable for the reality of the moment.
In trying to make the critic reason critically, prior to this news, the palliative previously shared by government and political office holders in the state were done independent of the Committee on Palliative set up by the Osun State government, let this be an hint for the hypocrite in search of cheap popularity.
Another rationale for distributing Ogbeni Rauf's palliative with neutral formula is the essence of palliative which is to inject ease to the lives of the poor, the goal will be served if the error of other is not repeated and at the end, smiles surface on the faces of larger number of our people.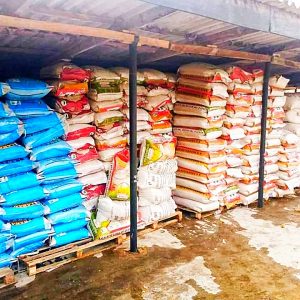 Also, as member of Presidential Task force on Covid-19, Rauf Aregbesola is not the only member, as much as he passionately lobbied for consideration of palliative for his loved state, the Federal Government of Nigeria realizing that it was breeding politicking of Covid-19 among some politicians, she quickly suspend such to face other critical issues. His pressure to attract palliative was confronted by the need for Federal Government of Nigeria to avoid politicking of Covid-19 by states.
You will appreciate one uniqueness in sharing of Aregbe's palliative, the class that mostly need succor is strategically mapped out and it shall be channeled to the larger number of this class.
May God heal our world from the deadly virus.
Chief (#OTUNBA) Abdulfatai Abdulsalam Liberty
Director General of GOGLAI