The Permanent Secretary, Ministry of Interior, Barr. Georgina Ehuriah, today handed over affairs of the Ministry to me.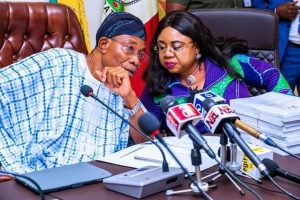 It gives me great pleasure to formally resume work and meet all the nice people in this ministry and its agencies.
"I have the full understanding of the eponymous implication of my designation as a Minister. To minister (as a verb) actually means to serve while, minister (as a noun) is a servant, therefore the key factor here is service which I am committed to do. I serve at the pleasure of the President & we in this ministry are servants of the Nigerian people.
Where we need reforms, we will brace up to them. Where we need personnel and more hands, we will make the case and get the strength we need. Where we need resources we will not relent in obtaining them for the purpose of improving our service to the people."
I have therefore set forth now.
RAUF AREGBESOLA.