Progressives e-Group throws weight behind Oriolowo, Adejare, Oluga and Akintola, ahead of Saturday's Elections.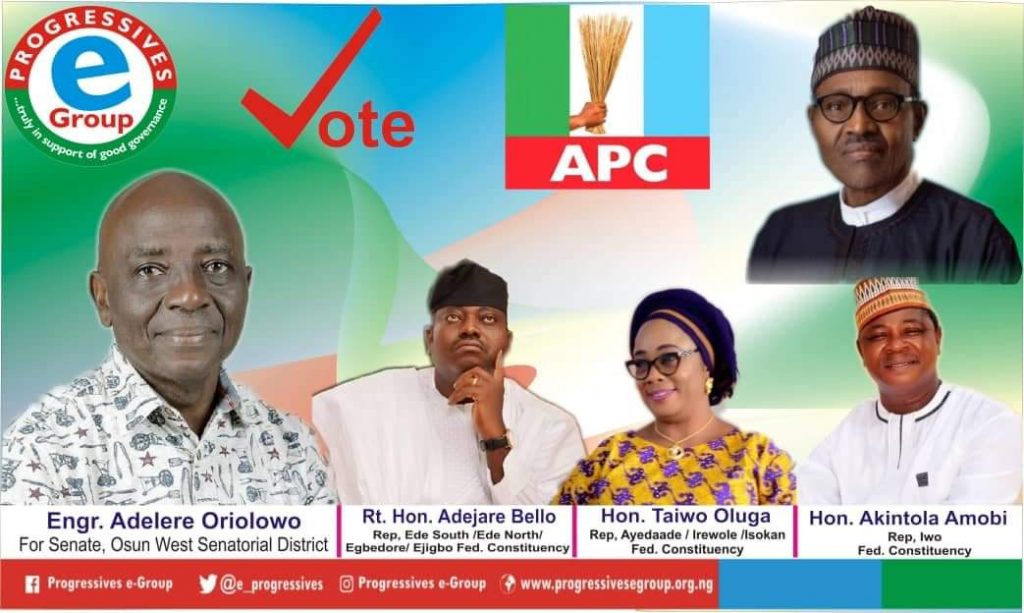 Invariably, Leadership is not about the next election, but about the next generation. Which is yourself and myself.
As a group that clamours on good governance, Progressives e-Group urges all and sundry to vote for the aforementioned candidates, For effective representation par excellence, for progressiveness at all levels, and an all inclusive government.
— Engr Adelere Adeyemi Oriolowo, as Senator, West senatorial district)
— Rt. Hon. Adejare Oluomo Bello Adejare(Ede North, Ede south, Egbedore, Ejigbo)
— Hon.Hon Taiwo Oluga(Ayedaade/Irewole/Isokan)
— Hon. Alhaji Amobi Yinusa Akintola( Iwo/Olaoluwa/Ayedire).
Don't forget our future is in our hands, and whatever we do today becomes history tomorrow. Let's plan and prepare to Make good history, which starts today.