PROGRESSIVES e-GROUP CONGRATULATES GOVERNOR OYETOLA AS APPEAL COURT UPHOLDS HIS VICTORY.
Progressives e-Group, the number one online media team in the state of Osun congratulates the democratically elected governor of the State of Osun, Alh Isiaka Gboyega Oyetola as the court of Appeal delivered her judgement and upheld his deserved victory at the poll.
The Court of Appeal sitting in Abuja, setting aside the judgement of the State of Osun Governorship Election Tribunal which nullified the victory of Governor Gboyega Oyetola has undoubtedly allowed the voice of the people of the State of Osun soundly aired in the poll to matter and it has resonated for all to hear that Gboyega Isiaka Oyetola and our party, the All Progressives Congress (APC) are forces to beat in the State.
Electing a leader of our choice is the most singular and prominent feature of democracy which allows choosing our leader out of many contestants.
The outcome of the recently concluded State and National Assembly elections in the state where All Progressives Congress won 23 out of the 26 slots available at State Assembly seats, 6 out of the 9 House of Representatives seats and 2 out of the 3 Senatorial slots is a testimony that All Progrrssives Congress is the party that people of the state will always support.
As a people, we commend the efforts of His Excellency since he took the baton of leadership of the state about five months ago and we admonish that you should continue to consolidate on the gains the state had made during the immediate past administration of Ogbeni Rauf Aregbesola where you served as Chief of Staff.
While commending the Justices of the appellate courts for their erudition, we understand that the judgement as we observe is a confirmation of the essence of an appellate court which is a need for an efficient and effective administration of justice.
The possibility that a decision of a lower Court may be scrutinised on appeal by a higher Court, at the instance of an aggrieved party is, in itself, a safeguard against injustice as it acts as a curb against capriciousness or arbitrariness.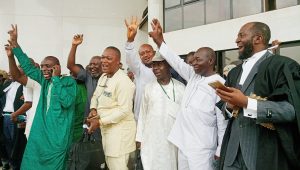 We congratulate His Excellency once again as we have no doubt that the Apex court will see the wisdom and fairness in the appellate decision and uphold same.
Long live State of Osun
Osun Adara o.