Prof. Olu Aina @ 80: Architect of prosperous, enduring Nigeria, says Oyetola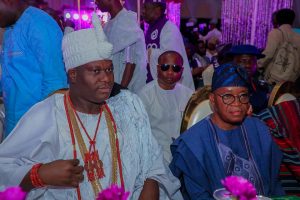 The Osun State Governor, Adegboyega Oyetola, has described Professor Oluremilekun Aina as one of the architects of modern Nigeria whose intellect and God-given wisdom have impacted the socioeconomic and political lives of the Nigerian people.
Governor Oyetola spoke on Saturday at the Colloquium marking the 80th birthday of Professor Oluremilekun Aina at WOCDIF Centre, Osogbo.
Oyetola said: "We are gathered here today to celebrate a man who was nurtured in the best of Omoluabi ethos, tutored in the best tradition of intellectualism at home and abroad, and who laboured all through his life to give back to society in superlative terms, what the society has to engrained in him.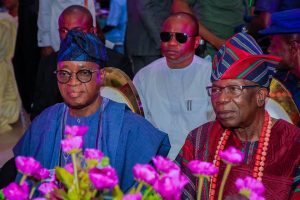 "I join the lovers of one of the architects of a prosperous and enduring Nigeria to celebrate a life wholly dedicated to service and posterity.
"Born in an era of colonialism when the foundation for a budding Nigeria was being laid, Professor Oluremilekun Aina came of age in an era of optimism during independence and has since then been a strong builder of an army of workforce in vocation, business and entrepreneurship that have now become the strength and hope of the nation's economy."
Governor Oyetola lauded the virtues of the octogenarian who he said has since adolescence been a strong builder of an army of workforce in entrepreneurship, vocational and technical education that have now become the strength and hope of the nation's economy.
Governor called on Nigerians particularly youths to emulate Aina's virtues by being diligent and committed to whatever they do.
"I am proud to be the Governor of a word-class academic, a teacher's teacher, a thoroughly-detribalised Nigerian, a statesman, and an indefatigable mentor of the leaders of tomorrow.
"I am proud to be the Governor of a man, born in the sleepy and ancient town of Otan Ayegbaju, and who started his career as a primary and secondary school teacher to become a world-class scholar and a National Merit Award Winner, Officer of the Federal Republic, OFR.
"I am proud to be the Governor of a man who, through exemplary character and leadership, rose to become the face of Omoluabi ethos, bearing Osun flag with pride as Executive Member of the Independent Corrupt Practices and Other Related Offences Commission, ICPC; the Chief Executive Officer of the National Business and Technical Examinations Board; Pro Chancellor and Chairman of the Governing Council of Igbinedion University, Okada, and Crown-Hill University, Ilorin respectively.
"He is an Osun Ambassador who stands as the signpost of hard work, integrity, selflessness, honesty and patriotism which our Omoluabi ethos epitomises, Governor Oyetola said.
The governor said Prof. Aina is a living legend whose life and works are a reference material for the nation's teeming youths in the challenging task of nation building they have before them as leaders of tomorrow.
He said, "The youths he has mentored, who are here in their good number to celebrate their hero, are our hopes that the river of honour which has stood our state out as a state of distinction shall never run dry.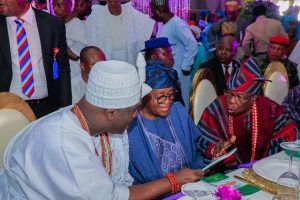 "Let us resolve to act his legacy and pass the message to our children and our youths for a better State of Osun and Nigeria".
In his keynote address, Prof. Peter Okebukola, called for the overhauling of the nation's education system.
He tasked governments, stakeholders and individuals on the need to invest in and promote quality education as a panacea for national growth and development.
Okebukola who identified poor quality training, low level of remuneration and poor attitude to schoolwork among others, as the bane of education in the country, said the time has come for a critical review of education curricula to meet the contemporary requirements in the education system.