Oyetola greets Fasanmi at 94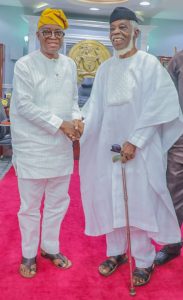 Governor Adegboyega Oyetola of the State of Osun, on Friday, joined the teeming sons and daughters of Pa Ayorinde Fasanmi, in Nigeria and in the Diaspora to celebrate him, describing him as an Encyclopaedia of Progressivism and a loyal and dedicated practitioner of its ideals.
This was contained in statement signed by the Chief Press Secretary to the governor, Ismail Omipidan.
The governor, who noted that every 30 minutes at Pa Fasanmi's feet was worth more than reading 10 books on politics, said he was proud to be one of the political sons of the nonagenarian.
"An astute politician and elder statesman, he is ever seeking to enrich and expand the frontiers of socio-political knowledge, encourage mass political participation, offer selfless service and replicate himself in his teeming followers.
"I have known Baba Fasanmi for many years, even before my foray into politics. I have seen in him a trained pharmacist who has faithfully transferred the ideals of service to humanity which his training entails into the larger business of politics.
"Today, through his noble efforts in diverse political struggles, agitation for good governance, persistent resistance against military rule, bad governments and administrations, Pa Fasanmi has been a beacon of hope and a pillar of light and encouragement to the younger generation of politicians and public administrators. We must therefore be very grateful to this rare-breed for his unrelenting efforts and invaluable contributions to the furtherance of the tenets of democracy, extension of the frontiers of public administration, the deliberate enrichment of the culture of good governance and an enduring civilisation, if only to preserve the authentic narratives, labours, toils and achievements of our forebears," Oyetola said.
He prays for longer life, good health, and indeed, many continued years of restful retirement, quality service and profound leadership to humanity for the nonagenarian.
Ismail Omipidan
Chief Press Secretary to Governor Adegboyega Oyetola.