Oyetola Government is your government, you must support it
~ Hon. Adeleke Yekini Adedayo (Baniks)
Hon. Adeleke Yekini Adedayo has said the government of Goyega Oyetola is a government the Progressives e-Group played a major role in installing which makes the group a major stake holder.
The Honourable Commissioner for Local Government and Chieftaincy affairs, Hon. Adeleke Yekini Adedayo popularly known as Baniks stated this during a congratulatory visit by the Progressives e-Group, the number one online media group of APC in the state of Osun to him in his office today.
The team comprising noble Members of the group conveyed the goodwill message of the group to the Honourable Commissioner. In a separate message by Hon Taoheed Ademola Omo-omi (the Organizing Secretary of the group) and Comrade Abiodun Collins (the Scribe of the group), congratulate the Honourable Commissioner on his emergence as the Commissioner for local government and Chieftaincy Affairs and prayed that the honourable Commissioner be successful in office.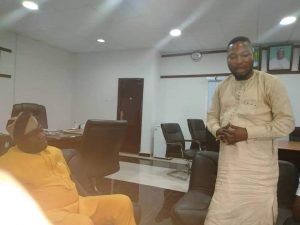 In his remarks, the honourable Commissioner Hon. Adeleke Yekini Adedayo acknowledged the activities of Progressives e-Group online. He added that Oyetola's Government is a government of everyone including the stakeholders in which the Progressives e-Group is one. We must all rally support and do everything to make it a success through your online activities. Any form of cheap propaganda from the opposition should not be allowed to see the light of the day.
He (the commissioner) said the roles the Progressives e-Group is playing may be difficult for an ordinary person and you can't play that role perfectly well without tools and that tools is financial power. He further added that asides been an online media group we know you have Professionals in different fields such as Accountant, Lawyers, Engineers , Doctors amongst you, do not hesitate to bring anything you see in your field that could be beneficial to the government forward.
While rounding up his speech, he said the party belongs to all, we should promote unity and make sure the party remains one, we should not allow opposition this time around to come between us, because what you say on Social Media matters, that the Progressives e-Group e have a role to play.
The representative of the Progressives e-Group however pledges the group's support for his ministry and the government of Oyetola at large.