OYETOLA GIVES ULTIMATUM ON IDOMINASI JUNCTION ROAD REHABILITATION


The Governor of the State of Osun, Mr. Gboyega Oyetola has directed the State Ministry of Works and Transport to ensure they synergized with the Federal Ministry of Works & Housing to fix the bad portions of   Idominasi junction and  Oke Ayepe – National Open University of Nigeria along the Osogbo – Ilesa road within the next few weeks .


In the quest to comply to the executive order, the Speaker of the State House of Assembly, Rt. Hon. Timothy Owoeye who had earlier in the week raised concerns over the same road, the supervisor for works and transport, Engr. Remi Omowaiye and the honourable member representing Ilesa West state constituency, Hon. Wale Adedoyin with officials of  federal ministry of works and housing inspected the road.


Addressing commuters who had thronged the  375meters  Idominasi dilapidated portion on sighting the inspection team, the speaker assured the citizens that in no distant time, the contractor handling the road will return back to site, and solicited for little patience and understanding from the citizens. "We want the best for our citizens in all spheres of life, good health, good road, that's why we are here on Sunday for this visit", Owoeye told the people.


Also speaking, Engr. Omowaiye sympathized with users of the road, including himself. In his words, "I pass through this place everyday, we shall through the robust support and partnership we have started enjoying with the Federal Ministry of Works & Housing rehabilitate the bad portions on the Osogbo Ilesa road this month of October ", he said.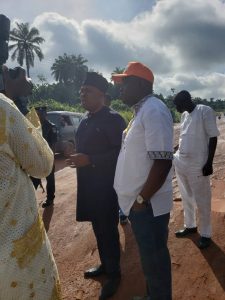 Omowaiye also used the avenue to reassure residents of Osun that the Oyetola led APC administration will not abandoned the Osogbo Iwo road rehabilitation, the weather condition with the heavy torrents of  heavy rainfall have badly slow down the pace of work, which makes it absolutely impossible to carry out some mandatory engineering practice as required, we are also agitated by the deplorable condition of the road and we can only make a commitment to do a lasting job which will be durable and of quality standards. "Our people should please bear with us, we shall make alternative road passable while we fix this road", Omowaiye concluded.