OsunMall sets for commissioning in Osun next week.
The Osun Mall which has been under construction since the period of the former state of Osun governor Ogbeni Rauf Aregbesola is now completed and ready for commissioning next week Monday barring any last minute change.
It would be recalled that the location of this newly built Mall generated a lot of controversies in the state most especially from the opposition parties who claimed it is unreasonable demolished a school and replaced it with ordinary mall. They also alleged former governor Ogbeni Rauf Aregbesola forcefully and illegally grabbed the said land and gave it to his crony to build shop rite where he will be receiving returns and which is of no benefit to the masses according to them.
But contrary to this opposition claim,the said land was duly and legally acquired by the investors that later got it after the school reclassification which saw the Fakunle grammar school which was located at this place before relocated to another spacious and more conducive place during the reclassification exercise.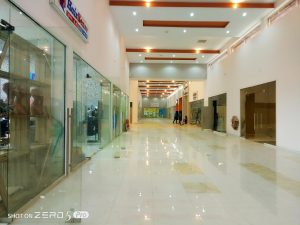 Currently the Fakunle school is now situated along Ikirun road after stadium in Osogbo and now called Fakunle/Unity government school after the merging.
Here is the new Fakunle school in the picture>>>
The Old Fakunle school is now wearing a new and beautiful look after the completion of this project which is expected to generate employment opportunities for the unemployed Osun youths.
This beautiful edifice shall be commissioned by the state of Osun governor Alhaji Isiaka Gboyega Oyetola next week Monday 25th of November 2019.