Osun West Senator gives succour to constituents
RESIDENTS and TRADERS of Faridah Adeleke Market, Olorunsogo community in the Osun West Senatorial today, Monday leaped for joy as their representative in the National Assembly, Adelere Oriolowo reached out with substantial amount to fix and repair the transformer in the area.
For several months, the community has been in darkness due to their old transformer that was perpetually under repairs. Residents' several efforts to draw attention of relevant authorities to their plight had proved abortive.
The beneficiaries, who are in Faridah market in Olorunsogun have been without electricity for almost four months owing to the spoilt transformer and accessories.
Speaking while handing over the money for the fixing of the transformer to the people of the community on Monday at Faridah Market, Ejigbo motor park Olorunsogo, Senator Oriolowo who was represented by his Personal Assistant on Political (Ede Federal Constituency), Mr. Sikiru Oyewunmi noted that it was inhuman for people to stay without light for several months.
He said that one ought to live well within the short time he has to live on earth.
"I have to say sorry to all of you for being in darkness for several months, I did not aware, until when it was brought to my notice and I directed my Personal Assistant in the constituency to visit the community and make necessary quotations on the said power project. I was moved to respond in this way, because it is difficult to reach everybody and give money, you people know me, I don't make empty promises and raise false hopes" he said
The Senator also used the opportunity to assure the people of Osun West of his commitment to provide purposeful representation that would address the myriad of challenges bedeviling the country, especially his senatorial district.
He disclosed that his office has programmes line-up to improve the condition of the people in the district.
He also assured the people of Irewumi/Ayilaka community Olorunsogo Dada Estate of his readiness to procure a new Transformer for them.
Speaking on the development, an APC Chairman in the area, Hon Fawande, said the senator's hands of fellowship on the project was long overdue and described the gesture as unique in the area, stressing that the lawmaker had shown an example that must be emulated by both elected and appointed representatives of the people.
Also speaking, an APC leader in the area, Mrs Olayinka Anike described the gesture as one of his contributions to give back to the people he was representing, charged him to continue to live up to the expectations of his people.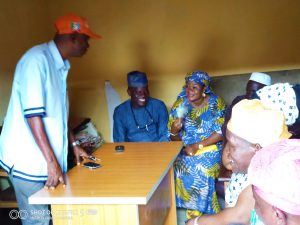 Also present at the presentation includes, Egbedore South LCDA APC Chairman, Hon. Fawande, two parliamentarians representing the area in the local council, Hon. Taiwo Olootu and Hon. Folashade, people, traders and traders of the area.