Osun Governor's Wife, Kafayat Oyetola Warns Against Female Genital Mutilation
…collaborates with NGO against the practice.
Wife of the Governor, State of Osun, Mrs Kafayat Oyetola has warned health workers and other citizens practicing female genital mutilation (FGM) to desist from the act.
The Governor's wife stated this on Friday during a two-day advocacy skill training program for girls on the abandonment of FGM, organised by a youth-led NGO, Value Female Network in Osogbo.
Mrs Oyetola, represented by the Governor's Special Adviser on Public Health, Pharmacist Olasiji Olamiju, said FGM is the most barbaric form of killing and harming girls/women, leaving them psychological traumatised.
"FGM is an abuse against the girl child and women hence the need for it's abandonment in all parts of the State."
"Scientifically, it has been proven that there is no advantage attached to that process. It is a harmful practice that all of us must rise up to condemn in its entirety."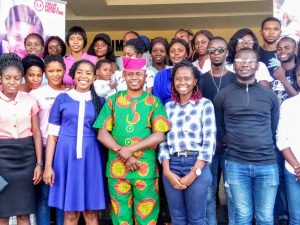 "The state government under the leadership of Governor Gboyega Oyetola has always been in the forefront against such practices and we are ready to collaborate with Value Female Network in the abandonment. But this is a collective effort, we need to take the awareness and training round the state, which I believe will go a long way in ending this public health menace," Olamiju explained.
She however urged wives of government officials to champion campaigns for the complete abandonment of the practice in their communities.
"Let me also use this opportunity to call on wives of all government officials and those in government, to use their privileged positions, to be vocal on the need to end FGM in thier various communities and to take actions that would enable this happen," she added.
The founder and team leader of the NGO, Dr Costly Aderibigbe, in her opening remark explained that FGM has no known health benefits and those who perform it are violating girls and women's right to life and health. Saying, Osun compared to state in the South-West has a higher prevalence of FGM.
"In the South-West, Osun has 76% prevalence of FGM compared to other states, as a result of social cultural factors in the state and it has to do with the belief that it helps to prevent promiscuity among young girls."
The about 200 young girls here will be taught how to develop applications that they will use to address the FGM menace and at the end of the training we expect them to have become advocates against the practice in their various communities," Dr Costly remarked.