Construction revolution in Irewole Local govt.
The bridge which collapsed over twenty years ago is gradually back to life through the efforts of Alhaji Sunmonun  Chairman Oke Aje Landlord Association Ikire ..and the state deputy governor Benedict Olugboyega Alabi.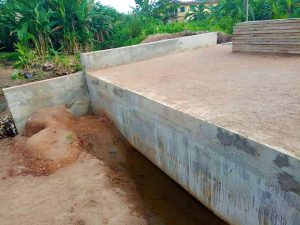 The time is now to measure the different between the ruler and the leader, yesterday Ikire 've witnessed numbers of self-centered rulers, who stole the opportunity to enrich themselves and families, but today the leadership style of H.E Benedict Alabi has no equal with riot developmental revolution thats going on in the City.
The change we are talking about is here, and the only success is to support government in all level for the govt to serve you better ..
The rulers are only there to enrich their pockets while good leaders bring progress and development to their people as displayed by the current deputy governor who rose up to the occasion by making sure this project is done for the benefit of his people.
Eni tio Fe Ikire yio se rere.
Culled from Akinyemi Mujahid Olayemi's wall.