Osun Assembly Whip to Inaugurate 2 in 1 Socio Economic projects.
All is now set for the inauguration of the 2 in 1 socio economic Integration programme of the Chief Whip of the State of Osun House of Assembly, Mr Tunde Olatunji.
The two programmes tagged, " Tunde Olatunji Skill Acquisition Project" and the "Tunde Olatunji Social Welfare Support programme 2.0" will hold on Thursday, 14th November, 2019 at Ipetumodu, Headquarters of Ife North Local Government.
According to a statement by the organizers, the Skill Acquisition programme is "aimed at raising young entreprenpneurs by enrolling and training 100 youths across Ife North State Constituency in various life Skills. Effective 15th of December, 2019".
Similarly, under the Skill Acquisition programme, Trainees upon successful completion of their programmes would be given working tools and equipments.
It also includes Free SME Development training, Free Financial management training and fully funded Graduation for trainees after completion of program.
For the social support programme, it is designed to show concern towards the welfare of our widows and old women, who are often vulnerable. Items will be given to 300 beneficiaries accross Ife North State Constituency.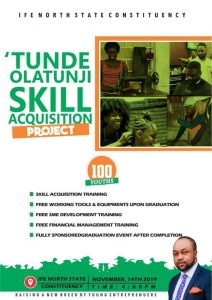 According to the statement, the skill acquisition project which targets the youth is based on Hon Olatunji's conviction that empowerment of the youth is a potent force in fighting poverty and building a functional society.
'Tunde Olatunji
Office of the Chief Whip
Osun State House of Assembly