Osun Assembly screens Egbemode, Omowaye, seven other commissioner nominees.
OSUN State Assembly, on Monday, began the screening process for commissioners designates, whose names were forwarded to House by Governor Gboyega Oyetola last Tuesday.
Among the nominees that were screened include the former President, Nigeria Guild of Editors, Mrs Funke Adenike Egbemode, former Commissioner for Science, Technology and Innovations in the state, Mr Oluremi Omowaye, Oladoyin Olayinka Folorunso, Ibitoye Felix Adeniran and Adebisi Obawale Simeon.
Others include Oladepo Solagbade Atanda, Ajisefini Abiodun, Ogunfolaju Christiana Olusola and Nathaniel Agunbiade.
Responding to questions from the lawmakers, Egbemode promised to build a healthy relationship between the state government and the media if deployed to head the Ministry of Information and Strategy.
ALSO READ: Stop interfering in religion matters, group tasks Sokoto govt, Police
Speaking earlier during the plenary, the Speaker, Osun State House of Assembly, Hon. Timothy Owoeye assured indigenes and residents of the state that the legislature will do a thorough and strict job on the screening of commissioner/ special adviser nominees.
He maintained that the Assembly had resolved that the screening exercise is not going to be a "tea party" and that members were in high spirit and ready to give their all for the betterment of the state.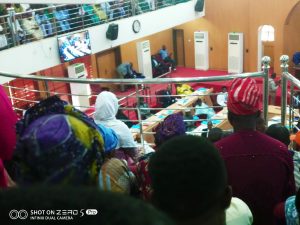 Owoeye, however, said that the House is not oblivious that the nominees would have gone through different levels of security checks, saying aside from such checks, the lawmakers will not shy away from its constitutional responsibility.
According to him, "it is on record that Governor Oyetola has sent a list of 35 persons to be screened as Commissioners/ Special advisers. I and my colleagues at the Assembly have resolved not to betray the confidence reposed in us by the public."
"We are not unmindful of other screenings that might have taken place before now, but the State House of Assembly is constitutionally saddled with the final screening. We assure our people of Osun that we will do our job without favour, nothing but the interest of our state," Owoeye remarked