Chief Bisi Akande sue for peace!
…….By Ismaila Wasiu
It was a roll call of political heavyweight of our dear party APC from Osun East Senatorial District when the Chieftain of the party, The Former Governor of Osun and Former National Chairman of ACN. Chief Abdulkareem Bamidele Adebisi Akande (Baba Omo Kekeeke) organise meetings that would carry along the 3 Senatorial Districts of the State of Osun in batches .
Osun East was the first to be hosted by Baba Akande in his country home where the current Speaker from the state of Osun, Rt, Hon, Timothy Owoeye led others from the district which includes the SUBEB Chairman Hon. Ajibola Famurewa, Hon. LB Ayeni(MHR) The House Committee Chairman on Local Government and Chieftaincy Affairs of the State of Osun, Hon Babatunde Festus Komolafe, Hon. Desmod Ojo, Hon. Wale Adedoyin, Hon. Mrs. Olubunmi Aluko and Others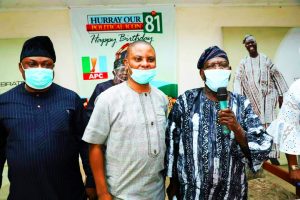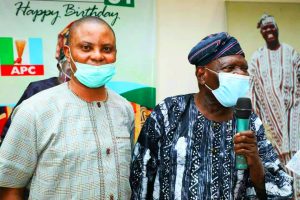 The meeting was centred on how to ensure that normalcy is reinstated to the party and all hullabaloo about factionalization within the party put to rest. Baba Akande as usual was straight and blunt by issuing a stern warning to all political office holders and the acclaimed foot soldiers that are meddling things up within the party for their selfish interest which are best known to them.
Chief Bisi Akande took everyone to the lane of history and reminded the attendees what it took the Party to reclaimed the mandate that some of the opportunists are toying with. He cautions everyone and instructed them to go back to their respectives Local Government, Ward and unit to unitified the party and shun factions or nomenclature that can lead the party to the path of destruction.
The APC Chieftancy implores every lovers of the party in the State to supports the government of His Excellency Adegboyega Oyetola and ensure that he deliver, and all efforts should be gear towards our common enemy which is PDP for they are not sleeping nor slumber but strategizing to hijack this government from the back door.