*OLORUNDA NORTH LCDA CHAIRMAN,HON ABIODUN MUSBAUDEEN AJISEBIYAWO ROUNDS UP HIS TENURE WITH COMMISSIONING OF PRIMARY HEALTH CARE CENTRE AT AGUNBELEWO, OSOGBO.*
………………………….
The executive chairman of Olorunda North LCDA state of Osun, Honourable Abiodun Musbau Ajisebiyawo (Haji) rounded up his tenure of office at the local government with the commissioning of a primary Health care centre,though started by his late predecessor, Hon Owonikoko Quadri Ademola and completed by his administration.
The commissioning took place at the site of the new health care centre at Agunbelewo Osogbo yesterday 5th day of February 2021.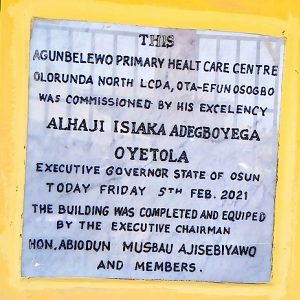 The commissioning was done by the state governor, Alhaji Isiaka Adegboyega Oyetola who was represented by the SSA to Mr governor on local government and chieftaincy affair Prince Gboro Ilori.
Delivering his address at the program,Hon Ajisebiyawo thanked almighty God for making the project a successful one and later eulogized his late boss, Honorable Owonikoko who he said commenced the project during his lifetime.
He specially thanked the state governor Alhaji Isiaka Adegboyega Oyetola for the opportunity given him to succeed his late boss and carry on from where he stopped.
He also thanked all members of the local government executive council including the carrier officers for their support and cooperation.
Among the dignitaries present at the program is the Baale of Agunbelewo, Alhaji Maaroof Olayiwola.
The former chairman of Olorunda local government, Honorable AbdulHakeem Okunade, a.k.a Samanja who also dropped a Goodwill message at the program, the honorable representing Olorunda state constituency in the state of Osun house of assembly, Honorable Moshood Kunle Akande.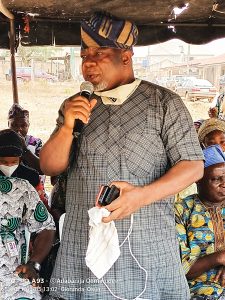 Dr Olaosebikan, the founder of Onward Hospital, Agunbelewo who also doubled as the chairman of the Agunbelewo community, who gave details of how the community struggled to get a pieces of land for the Health care center because of the importance of the health care centre to the people of the community and later approached the government for assistant and which eventually yielded positive result today. He thanked the administration of Hon Ajisebiyawo for their commitment toward making life better for the people of the community.
The Olorunda local government APC chairman, Alhaji Bolarinwa Hammed advised the outgoing local government parliamentarians not to relent in building the party from their individual ward level to make the party more stronger because according to him,their future is very bright in APC.
Others at the commissioning are APC party leaders in Olorunda North LCDA,women leaders,youth leaders and party faithfuls.
Vote of thanks was done by the secretary to the community,Mr Durosawo.