Nation of Israel Set to Partner with Osun Govt on Agricultural Development.
The Governor of the State of Osun, Mr. Gboyega Oyetola recieved in audience the Ambassador of Isreal to Nigeria, Ambassador Shimon Ben-Shoshan, at Awolowo house Asokoro, Abuja.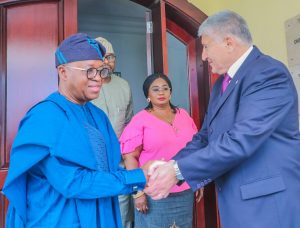 The Israeli Ambassador to Nigeria visited the Governor to reiterate the readiness of his country to support agriculture in Osun state.
H.E Ambassador Ben-Shoshan said Osun is an agrarian state and has a fertile land for agricultural exploit and which he said the government he represent in Nigeria is ready to key into.
The Governor state of Osun, H E Gboyega Oyetola, in his remark appreciate the Israel government for her willingness to partner with the state govt in the agricultural sector and equally affirmed that the door of the state government is opened to every investor who is ready to be part of the success story the government he runs is already activating in the state.
The details of the Israeli Ambassador visit is already being worked out, and proper communication will be made to the public as at when due on the details of the agreement.
The visit of the Israel Ambassador to the Governor is one out of the many giants steps of the Governor to attract investors to the state through his contacts as a businessman prior to his foray into politics.
It would be recalled that recently, the Saudi government also had a delegation that visited the Governor in a bid to invest in the state as well.