MY BIRTHDAY WAS AN AMBUSH.
Today I felt like the luckiest man for the best surprise birthday party ever….
For the last 45 years of my life, I have never (for once) cut a birthday cake of my own. Not because my parents are too poor to afford one but because they wanted to raise a son that would grow to become great and value achievements more than mere numbers.
Honestly I was deeply humbled and I felt highly honoured. This was a real ambush but it was the sweetest type of ambush that anyone could possibly imagine.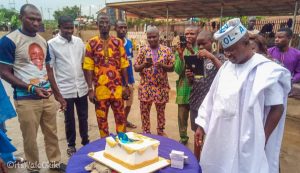 My 46th birthday was differentially different, the birthday cake was beautiful. The prayers and kind words of encouragement from everyone moved me deeply.
Thanks to everyone of you that planned it (especially my wife), as I felt so rich and happy. I consider myself truly blessed to have you all. You really made my day. I will never forget this wonderful gesture.
Mo dupe o