*Motorists Commend Oyetola for Idominasi Junction Road Rehabilitation*
Road users, passengers and residents of Osun have started pouring encomiums on the State Governor, Gboyega Oyetola for keeping to his promise on the timely intervention in the rehabilitation of the Idominasi junction on the long stretch of Osogbo Ilesa road.
Recall that just last week Governor Oyetola gave a directive to the State ministry of works and transport to synergize with the Federal Ministry of Works and housing to immediately fix the bad portions which was followed by a technical assessment and site inspection by the Speaker of the House of Assembly, Rt. Hon. Timothy Owoeye and the Supervisor for works, Engr. Remi Omowaiye on Sunday morning with the assurance that a synergy of collaboration have been worked on by the contractor, Federal Ministry of Works & housing and Osun government to move to site within 96hours.
We can authoritatively report that rehabilitation work fully commenced on the over 350m Idominasi junction yesterday. Site engineers were cited giving instructions to bull dozers, graders technicians on duty.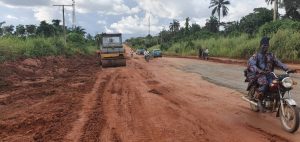 Later in the evening when officials of the state ministry of works led by Engr. Remi Omowaiye visited the site, it was obvious and apparent that many people are grateful for the intervention as they were full of praises and prayers for the governor, assuring him of continuous support as he continues to bring succour and relief to the plight of Osun people. It was said that a stop gap measure was employed pending a full fledged rehabilitation because of the weather condition.