Monsurat Ajoke Foundation (MAF) visits Ilesha Correctional Center ;
……Holds Hangout with Female Inmates.
The Monsurat Ajoke Foundation (MAF), a non governmental organization with the objective to fight women and child abuse in the society on Tuesday, 14th September, 2021 visited the Ilesha Correctional Center with food and other essential items for the female inmate as part of its humanitarian service.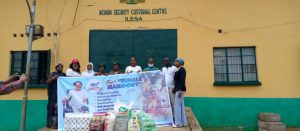 Visitation to Correctional centre which is also a key point agenda in the organization's program is meant to identify and share affection with the inmates, make them see themselves as part of the society and not to see Correctional Center as the end of the road.
In their separate admonitions, the Olori Agbaekun of Obadiimu, Chief Mrs. Opajimi Oluwasegun Atinuke, Mr. Adétúnjí Àkànbí Alátàtà the welfare director of the organization and the founder and President of Monsurat Ajoke Foundation (MAF), Ms Ibraheem Monsurat Ajoke urged the female inmate to see God as the only one that could get them out of where they are, as well as see the Correctional Center as a place to retrace their steps and turn a new leave.
During the Interactive session between the members of MAF and the female inmates at the Correctional Center, the team was able to discover many cases that were aggravated by the corruptible members of the Nigeria Police Force who for one reason or the other, padded the case files of the inmates, where some of the officers slept with some female inmates while they were still in their custody..
MAF in lieu of the ugly discoveries implores men of the Nigerian Police Force to have the fear of God and put humanity first in the discharge of their duties.
Part of the items taken to the Ilesha Correctional Center by Monsurat Ajoke Foundation (MAF) includes food items, beverages and toiletries.