OBJ in action 👀
Former President Olusegun Obasanjo, has 21 children and though he listed the names in his recent controversial book, My Watch, he did not mention their mothers.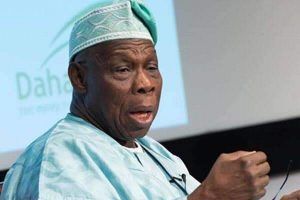 However findings by ENCOMIUM Weekly revealed the mothers of these children and other women that had dalliances with the two-time president of the country.
The mothers of the children include…
MRS. OLUREMI OBASANJO, his first wife, who he married on Saturday, June 22, 1963, at Camberwell Green Registry, South East London. She was just 21. Mrs. Oluremi Obasanjo is the mother of six of the 21 children of the former president.
They are Senator Iyabo Obasanjo, Busola Obasanjo, ; Olusegun Obasanjo, the first son, ; Olugbenga Obasanjo, Enitan Obasanjo, and Damilola Obasanjo, the last of the woman's children who was born in 1982.
MRS. STELLA OBASANJO, the late former First Lady died on Sunday, October 23, 2005, in Spain after a failed tummy tuck surgery. She had only a child, Olumuyiwa Obasanjo, who was born in 1977, for the former president.
GOLD ORUH, a former director at Nigerian Television Authority (NTA), who met the former president as a reporter during the civil war in Port Harcourt, Rivers State. She had two children for him. Her children are Funke and Seun Obasanjo.
MRS. TAIWO OBASANJO, is the twin sister of Mr. Kenny Martins, the politician and former Chairman of Police Equipment Fund. She also has two children for the former president. One of her children is Esther Olubunmi Obasanjo who got married in August 2010.
Mrs. Taiwo Obasanjo has since reverted to her maiden name, Martins. Since her secret dalliance with late Godwin Daboh became public knowledge, the former president distanced himself from her.
Late MRS. LYNDA OBASANJO, nee Soares, was another woman who had children for Chief Olusegun Obasanjo. She was said to have had two children for him before she was killed on February 14, 1987, in daylight by armed robbers. She was 45. We really don't know the names of her two children among the 21 children. Her cousin, Priscilla Soares was later made MD, Nicon by Obasanjo.
MRS. MABEL OKOSODE OBASANJO is another woman who has children for the former army general. We, however, don't know how many children she has for him and their names.
MRS. TITILAYO OBASANJO, is another woman who has a child or children for the old man.
COL. ADEBOYE OBASANJO, mother's name is not known. But according to Mrs. Oluremi Obasanjo in her book, Bitter Sweet My Life with Obasanjo, she is a mother of two and a divorcee brought to the former general by one of his aunts who lives in Arigbajo, Ogun State, when she (Remi) was chased out of their Ikoyi (Lagos) matrimonial home for challenging his (Obasanjo) philandering.
KOFOWOROLA MOJISOLA OBASANJO, who got married to Peter Kenneth Blackshire, a British Baptist minister in 2002, shares the same mother with Tunde Baiyewu, the British singer of Nigerian descent. Tunde Baiyewu's mother lost her husband and relocated to Nigeria with her two children. She met Obasanjo who was still an officer in the army. Their dalliance produced Kofo Obasanjo.
MRS. BOLA OBASANJO, is the woman that is presently living with Chief Obasanjo. She also has a child for him called Funsho Obasanjo. The woman was formerly based in London, but had to relocate to Nigeria to be his resident wife.
There are other women in Chief Olusegun Obasanjo's life though they did not have children for him.
HIS OTHER WOMEN
MRS. MOWO SOFOWORA, a lace fabric merchant and a married woman started dating him as far back as 1973, when Obasanjo was a Lt. Col. in the army.
Mrs. Oluremi Obasanjo mentioned Mrs. Mowo Sofowora as one of the women who caused problems in her marriage. She was said to be older than Obasanjo.
MRS. LABO SALAKO, the wife of late Captain Salako, who died in 1972, at Argungu in a motor accident. Late Captain Salako was Obasanjo's mate in London. After the death of her husband, she moved in with the Obasanjos at their Ikoyi (Lagos) residence on the advice of Obasanjo and the wife, Remi, acquiesced with her husband. But before the wife knew what was going on, Labo was already having a rollicking affair with her husband.
To make matters worse, she wrote Obasanjo a letter in which she advised him to divorce his wife, Remi. Remi got hold of the letter and made several photocopies and sent them to friends and relations. This was what led to Remi's departure from her matrimonial home for several months. The story is in Mrs. Oluremi Obasanjo's book, Bitter-Sweet.
MRS. LAMIDE ADEGBENRO is the wife of Chief Niyi Adegbenro, the former Commissioner for Agriculture in Ogun State and a kinsman of Chief Obasanjo.
Lamide Adegbenro, who should be in her 60s now was also mentioned by Mrs. Oluremi Obasanjo in her book as one of the many mistresses of her husband.
Former Vice President, Abubakar Atiku also mentioned her during his face-off with Obasanjo that she got a gift of a brand new Peugeot 607 and $110,000 that was paid into her NATWEST Bank, UK account in 2003, by Otunba Fasawe.
MRS. ALO, [/b]a former Vice Principal of Queens College, Yaba, Lagos, was also alleged to be a mistress of Chief Olusegun Obasanjo.
Mrs. Alo was the Vice Principal of Queens College when Iyabo Obasanjo was a student there. So, the day Iyabo saw her in a swimming trunk at her father's swimming pool in Ota Farm, Ogun State, she nearly assaulted her if not for her mother's intervention.
Mrs. Alo, we gathered is still very close to Chief Olusegun Obasanjo as she is a member of the board of directors of Obasanjo's school, The Bells.
[b]THE PRINCESS, A princess of Lagos, who is a lover of white apparels was also said to have been romantically involved with the former president immediately after the death of late First Lady, Mrs. Stella Obasanjo.
In fact, the rumour mill had it that she virtually took over the president's private life when the First Lady died and was positioning herself as the former president's wife before one of the children, Funke openly told her she was not welcomed in the family.
It was in order to wave off the influence of the princess in their father's life that the children came together to impress on him to marry another woman.
It was this pressure that brought about Mama Funsho, Mrs. Bola Obasanjo relocating from London to Nigeria as his official wife….