*MAKING SENSE OF ALL THE FAKE NEWS ABOUT VP  OSINBAJO* By Charles Adeyemi.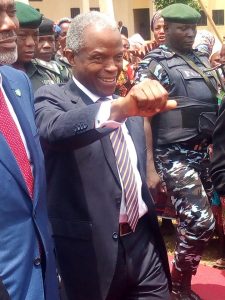 So let us set some of this orchestration of lies, and rife speculations about the Vice President straight
1. Yes, the President in the exercise of his powers has formed a new Economic Advisory Council and replaced the Economic Management team otherwise led by his beloved VP. This is really a change in strategy and not a reduction of the statutory functions of the VP.
2. As the Chairman of the constitutionally created National Economic Council, the VP will continue to play a leading role in matters Economic in singular support and assistance of his Principal, Mr. President.
3. Only last Thursday the VP at the NEC meeting clarified that both NEC and the new EAC will interact.
4. On the issue of agencies under the VP, the truth is that NOTHING IS CHANGING & THERE ARE NO NEW DIRECTIVES. This is because nothing has gone wrong at all. A Presidency Statement already clarified this.
5. All the other stuff you read are all lies!
6. Let us review some of the lies so far. That the new presidential directives have effected the take over from VP his Chairmanship of NEMA, NDPHC? It is a lie. In fact on the same day NEC met last week, VP also presided over an NDPHC board meeting.
7. That there has been some kind of mismanagement of funds in agencies chaired by VP. There are wild speculations on this, but they are all FABRICATED without exception.
8. Specifically on the much nosed NEMA probe, the House of Representatives did not indict the VP. The report of the Committee is in the public.
The Committee said the VP, then Acting President did not seek appropriations for the money he approved to deal with the impending famine in the North-east.
9. But the Presidency issued a public statement to say, No, the money the Ag President approved for release in those dire emergency situation was sourced from the Rice Levy which HAD ALREADY BEEN APPROPRIATED in that year's budget. And that explanation settled the matter.
10. Why is it coming out now again? Desperate elements who just want to confuse those who are gullible. Please be above such fake news.
11. A new lie discovered is that some money was found in some private accounts related to VP family or that some FIRS funds were traced to VP'S office and that Asiwaju Tinubu and Baba Akande were informed of some financial scandals or that Asiwaju himself is behind the attempt to smear the VP. All of such sorts are grand LIES.
12. FINALLY, there is CERTAINLY a group of people within and outside government who want to attack the cordiality between the President and his constitutional deputy, the VP. So they are actively seeking to sow seeds of discord as some of them are afraid of what 2023 portends.