Lateef Olatunji, Osogbo West LCDA Secretary gives back to his People, he distributes Educational Materials to Peupils of Elementary Schools.
Hon Lateef Olatunji gives thanks to Alimighty God as he marks his One year in Office as the Political Secretary of Osogbo LCDA. Lateef gives back to his community, by distributing Educational materials to the Pupils in Elementary School to mark his One year in Office. In this empowerment program, where Pupils benefited across some elementary Schools under Osogbo West LCDA.
This is a unique Program from KJL Foundation, apart from the Pupils of the Elementary Schools, other People also benefitted from the Program indiretly. About 5 members of the All Progressives Congress, who are Fashion Designers sewed the School Uniform, exercise books were printed by Party members, School bags are also made locally by Party members. Fan, clothing materials and writing materials are all supplied by Party Members.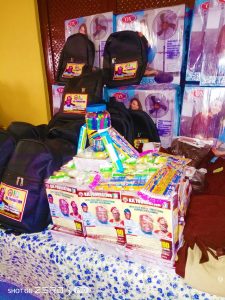 In his address he said "this Program is basically designed to appreciate the good people of Osogbo West Lcda and the program is tagged 2019/2020 Education support for pupils in elementary school and give back program to the political circle for the opportunity given to serve them"
He salutes the executive Governor of the State of Osun, His Excellency Alhaj Isiaka Gboyega Oyetola. He thanks the immediate past governor of the State, Ogbeni Rauf Adesoji Aregbesola, APC State Chairman, Prince Gboyega Famodun ,and his mentor, teacher, benefactor and brother the Senator representing Osun Central, Dr Surajudeen Ajibola Basiru (SRJ) for his unqualified support for over the years. Olatunji thanks Hon Badamosi Olatunde Taofeek and all leaders in Osogbo and most especially Leaders in Osogbo West Lcda whose in their magnanimous decisions choosed him to serve and represent them. He askes almighty Allah to reward them all abundantly.
The Secretary also appropriates his direct Boss, Alhaja Sekinat Temilade Olokungboye Halid the Chairman of Osogbo West LCDA for her cooperation and understanding. He appreciates leader of the house Alhaj Olusola Alli Dauda, Hon Busayo Eselebor, the vice chairman, Hon Jasuyi Moses, Hon Olawumi Ojo James, Hon Aderibigbe Rasheedat and my brother Oba ilu Kan, M M Osa Hon Monjeed Mutiu amongst others and he dare say God bless them all.
The event comes out to our pupils today is born out of passion to see all living a suitable life (Kajola kajolowo) as majority of them needs to be encouraged and helped so as to focus on their education. This little gesture is just a start as there are hundreds of pupils in our elementary, middle and high school who need our supoort. Latèef hereby implore others politcal Office holders and influential people in our society to reach out to Pupils.
The honourable Chairman, Sekinat Olokungboye in her message, she eulogises Hon Lateef for his commitment to work and passion to serve his People. She implore him to do more of humanitarian service to the Society.
Other dignitaries at the event are, Party Leaders, Local Government and Ward Executive Members. Also KJL Foundation Committee are present which include Ajao Saheed, Akeem Ojulari, Uncle Ishola Tiamiyu, Sola Lateef, Niyi Ibraheem, Engr Kehinde Adejare, Barakat Basiru, Waliyat Omobola
Nafisat Baruwa amogst others.
By Progressives e-Group
….truly in support of good governance