Late Layi Ogunrinade is a political colossus- Engineer Olayiwola Abiola as he led others to pay condolence visit.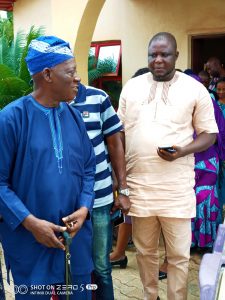 The Egbedore local government modern council chairman Engineer prince Olayiwola Abiola has described the late PDP leader in Egbedore local government Chief Olayiwola Ogunrinade as a political colossus during his life time, he made this pronouncement today at Iragberi, the country home of the late politician.
Engineer Olayiwola Abiola who led other political functionaries in both Egbedore local government main council, LCDA and the Area council on condolence visit prayed to God to accept the late leader in Paradise and also prayed for the family of the decease as a whole.
Engineer Olayiwola Abiola made it known to the family of the late leader that Egbedore local government would like to play major role whenever the burial of the late leader will take place as he charged the head of the family to carry the local government along when the time come.
Those accompanied the chairman include the leader of Egbedore local government Hon Taiwo Adegboye, the Secretary to the local government Hon Asiru a.k.a Akinremi Isola Olekenka, the deputy leader of the house Hon Mrs Toyin, Hon Alani and others. Others include the HOD admn from both Egbedore South LCDA and the HOD admn Egbedore local government area council Okinni.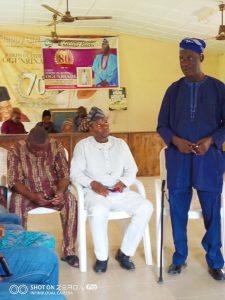 The Secretary for Youths in Egbedore local government main council and the SA women affairs were also present.
Chief Olayiwola Ogunrinade was the first executive chairman of Egbedore local government council and the pioneer PDP state of Osun chairman. He died after a brief illness at age of 80.
May the soul of the departed leader rest in peace.