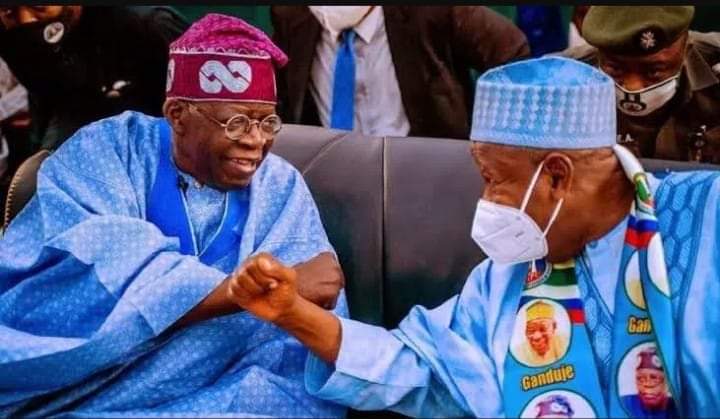 President Bola Ahmed Tinubu has perfected plans to draft in a former governor of Kano State, Dr. Abdullahi Umar Ganduje, as the interim national chairman of the All Progressives Congress (APC).
Recalls that in a move to avoid being embarrassed out of the APC, Adamu Abdullahi and Iyiola Omisore resigned on Sunday as National Chairman and National Secretary, respectively.
But barring any last-minute changes, Ganduje is set to take over from Senator Abubakar Kyari, who was named the acting national chairman on Monday.
Ganduje would be named as interim national chairman of the ruling party, pending the conduct of the convention of the party later in the year.
President Tinubu had directed the Imo State governor, Hope Uzodinma, who is the chairman of the Progressive Governors Forum (PGF), to get the buy-in of his colleagues and other critical stakeholders.
Uzodinma met President Tinubu along with Ganduje; Senate President Godswill Akpabio; Lagos State governor Babajide Sanwo-Olu; Kwara State Governor Abdulrahman Abdulrazaq; and Ogun State Governor Dapo Abiodun.
A presidency source said, "It was on Monday that the issue of making Ganduje the chairman of the party started when the chairman of the PGF met with him in Abuja. Uzodinma told the former Kano State governor of the president's intention to make him the party's chairman."
He said the issue was finalised on Wednesday when the president met Ganduje together with the three governors.
"From all indications, the issue is sealed. He would first be announced as the interim national chairman before the convention of the party, where his appointment would be ratified," the source added.
Meanwhile, there was jubilation in Kano State after news of the selection of Ganduje for the party's top job broke.
An aide of the former governor, while confirming the report, said Ganduje's selection would strengthen the party in the state and, by extension, the northwest and the country as a whole.
Also, a chieftain of the APC, who is a serving chairman of one of the local government areas in the state, said they had been informed that the former governor did not make the ministerial list.
He said they were told that Ganduje would be allowed to fill in the newly vacant position of the ruling party's chairmanship.
"For us, this is even better news because as the party chairman, Baba (Ganduje) will be directly involved with not just the party but also maintain his cordial relationship with the president," he said.