Jaiz Bank Plc visits Governor Oyetola, promise to partner with Osun Government on Agriculture, Mining and others.
Jaiz Bank Plc, led by its Managing Director, Mr Hassan Usman, Regional Manager South West, Mr Kazeem Adeniran and Osogbo Branch Manager Mr Saliu Abila Olukayode visit the State Governor of Osun, Ogbeni Gboyega Oyetola on Wednesday, 18th September 2019.
The Manging Director of Jaiz Bank congratulates Ogbeni Gboyega Oyetola on his victory and success at Supreme Court. He thanked the state government of Osun for the opportunity to trade with the state even when federal government has not started trading with the Jaiz Bank. He made it known that Osun was the first state to explore the opportunity of Jaiz Bank interest free busines by raising Sukuk to finance Osun Educational System during Ogbeni Rauf Aregbesola's administration.
Mr Hassan in his message to the state Governor, he said he thanks the People of the State for their acceptance and patronage so far within the shortest period the bank has come to Osun. He then promised Osun people better service and support at all time.
Jaiz Bank further promised the state government partnership in the areas such as Agriculture, Mining and other sectors so as to stomp up poverty and unemployment in our society.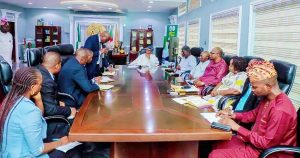 Mr Governor in his response to the message of Jaiz Bank's Managing Director, Ogbeni Oyetola said; his government is ready and willing to partner with any investors that is ready to invest in the state to make realization of his campaing promises plausible. He assured Jail Bank of government patronage.
Amongst the Government Officials that participated were; Chief of Staff to the Governor, Dr Charles Akinola, Hon Adejare Adebisi, Hon Ajibola Famurewa, Permanent Secretary, Ministry of Finance, Mr Adebimpe, Director of Fund, Mr Lare Atolagbe and others.