FLASH 💥
Iwo Central Mosque: Muslim Youths, Organizations and Jama'at Taawunil Muslmeen Embark on Peaceful Protest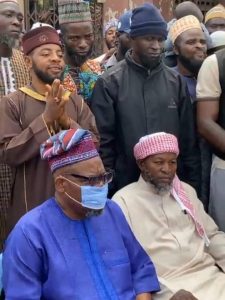 Majority of Muslim youths and different Muslim organizations embark on a peaceful protest to the Iwo Central Mosque this morning, Wednesday December 29, 2021.
The voice of Muslim men and women are simply that 'Nobody has an exclusive right to appoint anybody in the mosque except the Chief Imaam after the ratification from Oluwo of Iwoland.'
While speaking, the Asiwaju Muslimu of Iwoland, Alh. Liad Tella, said peace should be maintained as steps are being taken to resolve the issue. He also added that Iwo Central Mosque for years has been known as 'Mosalasi Oba'.
Among other imminent personalities at the venue this morning are;
Chief Imam of Iwo
The Wazeer of Yorubaland, Sheikh Yahqub Abdul-Baaqi Muhammad
Grand Mufti of Yorubaland , Sheikh Imran Dawood Molaasan
Otun Imaam
Eketa Imaam and others.