IREWOLE LG CONSTITUTE LOCAL GOVERNMENT HEALTH ADVISORY COMMITTEE….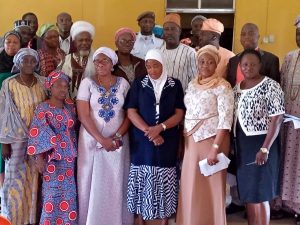 In a bid to see to improved health care system, as directed by Governor Oyetola led State of Osun government;Irewole local government on Monday constitute the Local Government Health Advisory Committee with Prince Remi Abass, chairman Irewole local government serving as chairman while Honourable Adeboye Opeyemi, chairman Irewole North East LCDA served as co-chairman.
The committee which is made up of different parastatal and religions leaders is to support the aver all vision and mission of the LGHA, develop effective working relationship with the management team and communities cum provision of strategic direction to LGHA management team and many more.
While speaking, Prince Remi Abass admonished the members to see the committee as a privilege of serving the communities, saying their actions and inactions will reflect in the kind of health care their people enjoy.
Therefore, he encouraged them to give their best while discharging their duties as his administration in conjunction with the LCDA will provide good working conditions for them to operate.
While reacting, Honourable Adeleke Kabiru, the supervisory councilor for health assured the chairmen on behalf of the committee of their commitment to the task at hand, promising to give their all while at work.
At the end, Honourable Adeboye Opeyemi while giving vote of thanks, appreciates the availability of every member despite short notice, saying it is a sign of commitment to provide the best health care for the people.
He pray for the success of the committee and reiterated his belief in them to not to fail their people as the committee is made up of the best from different strata within the community.